During October, our Martech team attended HubSpot's annual event, Inbound 2021. This 3-day virtual event covers talks on the latest business trends and industry news as well as HubSpot's product leaders sharing the latest features and updates.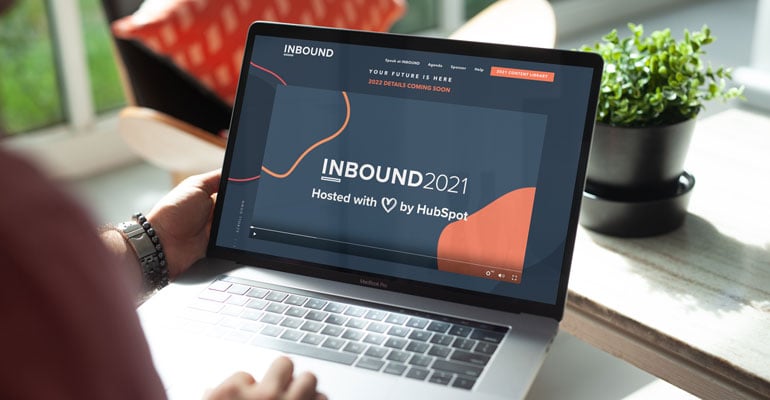 There was a huge focus on HubSpot CRM and how it has become more customisable, customer-centric and connected but that was just one strand of the content for the event. We've put this blog together to dive into more detail about some of the newest and most exciting product updates covered at Inbound this year.
Better HubSpot Customisation
Sandboxes
With a more customisable CRM you can really make HubSpot your own. An exciting update which enterprise users can benefit from is the launch of sandboxes. Sandboxes provide a safe place for users to experiment and test changes without permanently changing the data. You will be able to do things like test your new integration and see how a change to your deal pipelines impacts your sales team's workflow. Because your sandbox is a mirror of your HubSpot portal, you can explore new features and test new ideas that will impress your customers and set your team up for success.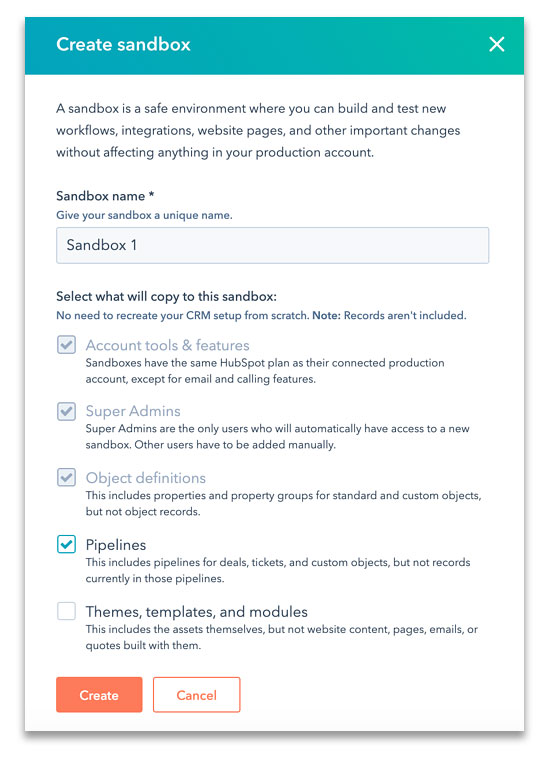 Screenshot courtesy of Hubspot
Business units
Another exciting feature which has launched is business units. This add-on gives you the ability to create multiple brands in a shared HubSpot portal across multiple tools. With business units, you can confidently manage contacts, marketing and sales assets, and settings across multiple brands in one portal. You will be able to easily run cross-sell and upsell campaigns to reach every segment of your audience, track contact interactions and communication preferences with each brand, and report out on performance across your business, or zoom into one brand's results. This will be available as an add-on for Marketing Hub Enterprise users.
More Customer-Centric Functionality in HubSpot
HubSpot's payments feature
With the launch of HubSpot's payments feature, you will be able to deliver a friction-free and connected buying experience from your CRM. This feature is built natively within HubSpot and allows you to easily embed payment links into emails, quotes, websites, or live chats for faster and more streamlined delivery. HubSpot's payments feature is currently in beta and available in the US only but we fully expect it to be available here too very soon.
Customer portals
Customer portals allow you to connect your shared inbox and keep ticket conversations going between customers and reps. It also offers access to your company's knowledge base and can be customized to create an optimal customer experience. This is currently available in beta and we anticipate that this feature will be of huge benefit to companies with customer services teams looking to streamline ticketing and the way customer service queries are managed.
Customer Surveys
HubSpot also introduced custom feedback surveys so you can ensure customers feel valued and heard every step of the way. You can learn what your customers really think with the custom surveys and feedback tools.
You will be able to tailor your survey to your business needs with a diverse array of question types and a customizable template. Once you've built your survey, you can send your custom survey via a web link or email, then efficiently share insights with your teams so you can deepen customer relationships and improve retention.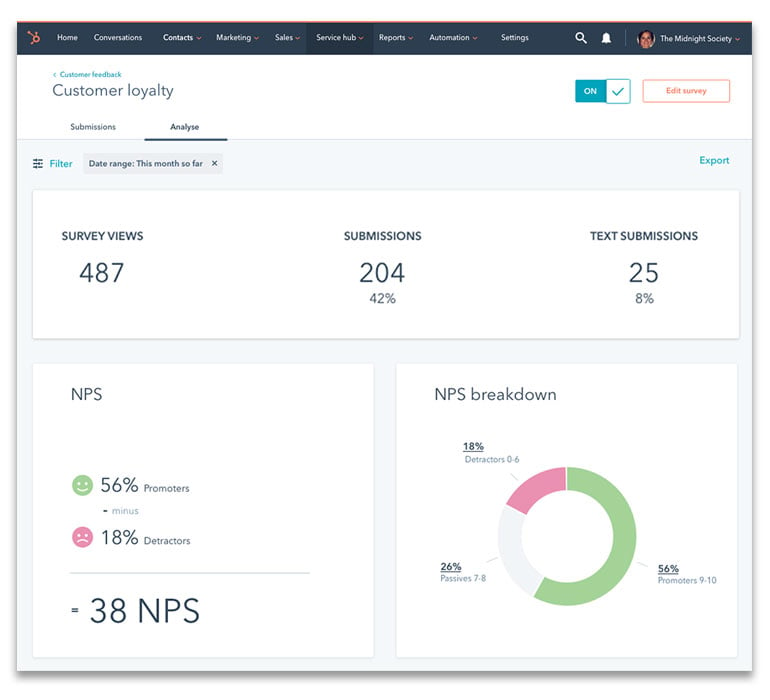 Screenshot courtesy of Hubspot
More Connectivity and better data management in HubSpot
Data sync
HubSpot emphasised the continued dedication to keeping your data clean, connected and keeping the customer experience friction-free. In 2021, they launched 50+ new HubSpot-built data sync integrations for some of the most requested tools.
They introduced custom behavioural events, now in beta, to help track and report on any site or app activity and with the vastly improved custom report builder, you can build bespoke reports with all your CRM data, including contacts, companies, and deals, plus custom objects, behavioural events, campaigns, and more - all in one place. HubSpot's marketplace features countless integrations to help you keep your data clean and connected.
Operations Hub
Operations Hub Enterprise is available for purchase on November 1, 2021, and will bring unified systems of record to the next level with a new business intelligence feature called datasets. With datasets, ops leaders can curate collections of data including pre-selected fields, calculated values, and more, for downstream users to build reports on. Datasets put ops leaders in control and give businesses quicker, more consistent reporting.
Get in touch
If you'd like to find out more about these announcements or HubSpot in general and how it can be used to drive your organisations lead and revenue generation then why not get in touch? We are platinum HubSpot Partners with years of experience in helping businesses leverage it to drive sales and we'd be happy to show you how the platform can be moulded to fit your business structure and deliver results.