This month we saw some interesting updates so we've put this blog together to dive into more detail about the top product updates and news announced in August.
August Updates
LinkedIn Ad Conversion Events
Ad conversion events are now available for LinkedIn. You will now be able to sync lifecycle stage changes, as you are already able to do for Google and Facebook. By sending your first-party data back to ad networks, you can ensure your ad spend is properly optimised. Now you will be able to send data back to LinkedIn every time a contact changes lifecycle stages along with a deal value or custom value so LinkedIn can apply that to its optimisations. LinkedIn will then use that information to further optimise your campaigns. You will also have the ability to attribute these events to specific campaigns within the LinkedIn Campaign Manager UI to see reporting within LinkedIn.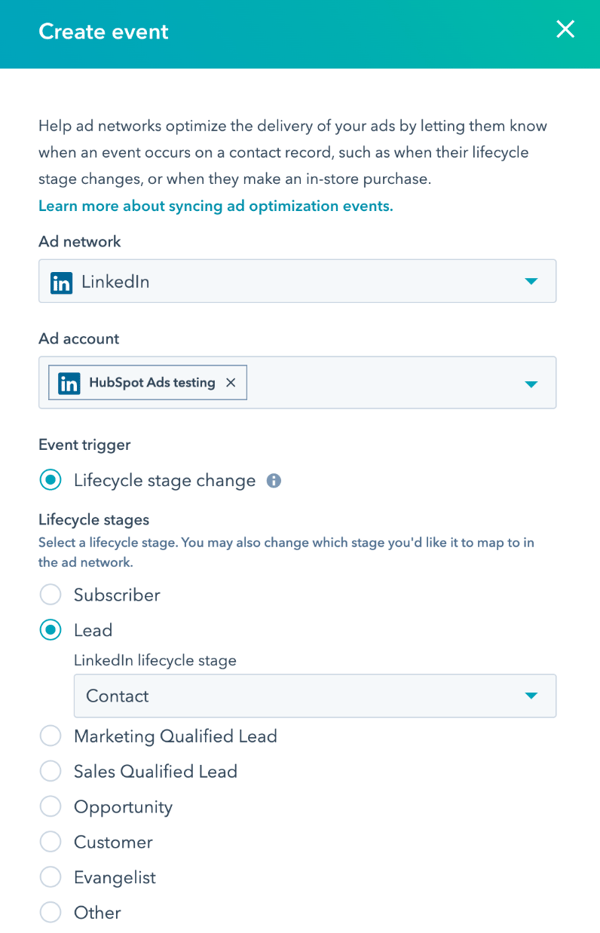 This is available in Marketing Professional and Enterprise Hubs only. Enterprise users can sync up to 100 events and Professional users can sync up to 50 events. If you wish to sync additional events, you can purchase additional Ads Limit Increases which give an additional 50 events each.
New Adjusted Open Rates
HubSpot have recently launched a new metric called Adjusted Open Rates (AOR). AOR is a version of the existing Open Rate that reports on the % of human opens (also known as reliable opens) within the population of emails that discounts emails with events associated with Apple Devices (also known as unreliable opens). Since the iOS 15 privacy changes, it has made a marketer's ability to measure email engagement quite challenging. This is because it is extremely difficult to attribute an open event from any Apple Device as reliably opened by a human or a bot.
HubSpot does not believe that Apple will be the only email client to make a change of this type and has therefore focused on building a solution that is scalable across providers. Adjusted open rates will help you understand the % of human opens within the population of emails that discounts emails with events associated with Apple Devices or MPP. As well as provide a comparative point of view between the disparity of overall open vs adjusted open rate
Please note that the numbers are just estimates, as it is challenging to distinguish between a human or bot event if coming from an Apple device.
This is available to all HubSpot users and packages.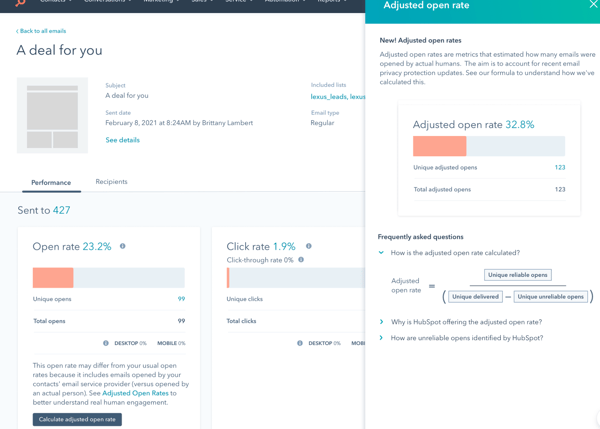 Customize Webhook Requests in Workflows
This is one is for the techs! Following the release of GET requests in Webhook workflow actions in March, HubSpot made another round of exciting updates that enable better control over the data you're sending to or receiving from external apps. You will now have the ability to select the data you want to include in the POST request, including data from previous actions in the workflow. As well as this, the ability to use properties such as query parameters in GET requests, in order to dynamically update the GET request based on information specific to the enrolled record.
Webhooks in workflows will enable you to send and receive information to and from external apps, automatically. When you're passing data between applications, the more control you have, the better. With these updates, get even more specific about which data you send and receive, enabling easier connections and increasing trust in your data.
This functionality is available in Operations Hub Professional and Enterprise.
Required Two-Factor Authentication for Enterprise and Pro Accounts
On 29th July 2022, HubSpot Enterprise users were required to set up 2FA before logging into their accounts and this will be required for HubSpot Pro users starting on September 21st, 2022.
HubSpot accounts often contain a large amount of personal & private information about your contacts, customers, & your business. Two-factor authentication (2FA) remains the best, most effective way to ensure that online accounts, including HubSpot accounts and the data within are safe from bad actors. This adds an extra layer of security to access your HubSpot account.
Please note that if your portal uses the required Single Sign-on feature, only users exempt from the SSO (Single Sign On) requirement will be required to use 2FA in HubSpot.
Find Out More
These were our top news and features from this month, but if you'd like more information about any of these new changes and options we'd be happy to explain further, so why not get in touch?
Innovation Visual are a HubSpot Diamond Partner agency with many years of experience in helping businesses leverage their HubSpot platform, we'd be happy to show you how the platform can be moulded to best fit your business structure and deliver results. We look forward to showing you how.