Each month the team at Innovation Visual dedicates time to staying on top of the latest features that HubSpot brings to market, so we can share that knowledge with our clients and help them use HubSpot as effectively as possible. There have been plenty of new features launched in the last month and we're excited to share some of them with you.

Check out our highlights below and if anything catches your attention, feel free to get in touch with our team – we can show you how these latest features can work for you. Onwards!
Marketing Hub
Email Health
Email Health now provides industry specific benchmarks. These are a game-changer when it comes to measuring and improving your email marketing performance. Different industries have different thresholds for email marketing success. Rather than referencing general figures, now you can compare your results in real time against those of fellow HubSpot users in your industry – keeping your finger on the pulse of your email marketing.

You can start using industry benchmarks by navigating to Marketing > Email > 'Health' tab and selecting the radio button with the name of your industry.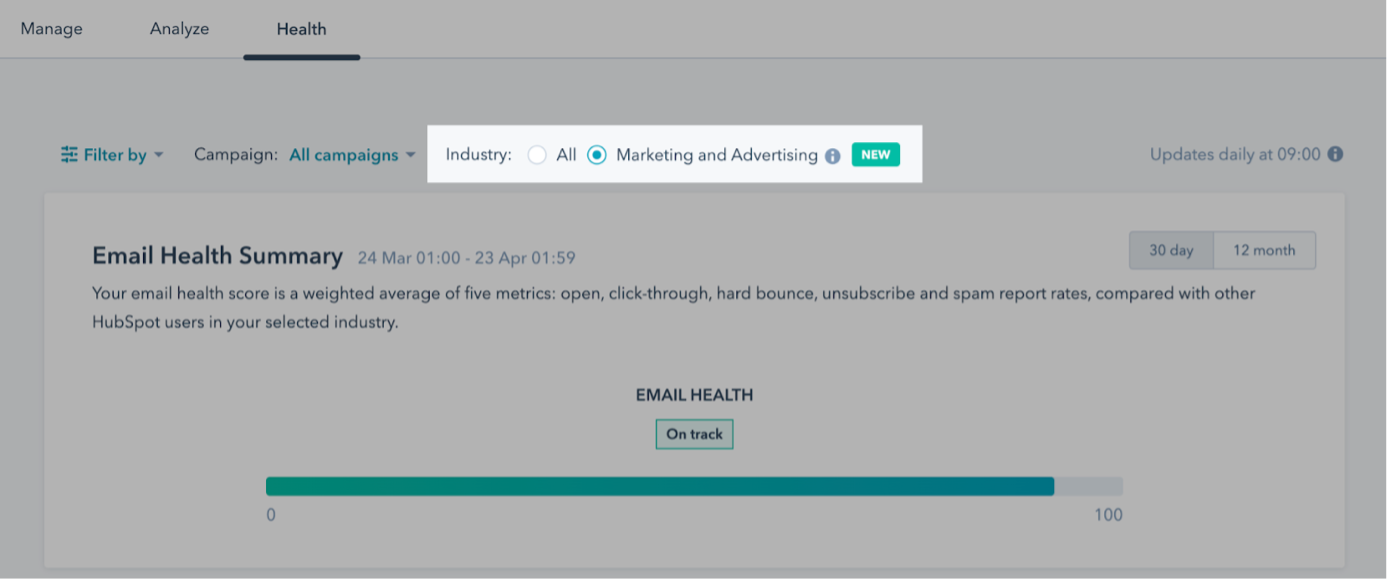 If your industry is not showing, make sure you have selected it in your settings. It could also be that there's not enough data available for your industry yet, in which you will need to wait until more users update their settings.
Marketing Campaign Comparison
You can also compare email marketing campaign performance side by side, selecting up to five campaigns at a time. Analysing campaigns gives you valuable insights into the performance of your marketing activities, particularly influenced revenue figures, and comparing five campaigns together lets you be more efficient in determining what's really helping your bottom line and what isn't.

This feature is available to Marketing Hub Professional users.
CRM & Integrations
Sync Health
HubSpot's sync health is a set of diagnostic tools you can use on a running data sync, to display which records are currently syncing between HubSpot and a third-party app, and which aren't. Records will sometimes not sync either because they have been excluded from syncing or because of an error. With the improved diagnostics, you can detect issues within your configuration and troubleshoot errors earlier and more easily.

This feature is available to HubSpot users across all products and plans.
Association improvements
CRM association improvements have now been rolled out for all users, which means you can start associating multiple companies to a contact, deal, or ticket. Professional and Enterprise accounts can also label associations to describe relationships between associated records. This has plenty of uses, for example:
A contact can be labelled Manager at one company, but also Advisor at another company at the same time.
A deal can have multiple associated contacts, e.g., two contacts with the label Decision maker and one labelled Billing contact.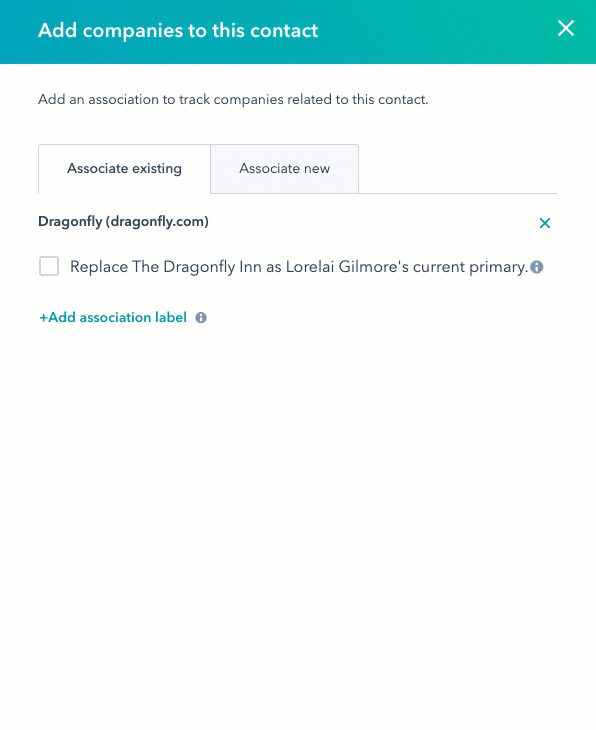 Gif courtesy of HubSpot
This feature can really ramp up your team's efficiency and effectiveness. Why not reach out to our team and talk about how you could start using it to improve the value of your HubSpot CRM?
Service Hub
Channel Switching
Omnichannel is about meeting your customers where they are, and HubSpot Service Hub now lets you do just that, for more authentic interactions and better customer satisfaction. In one click, chat agents can now switch their customer communication channel from live chat or Facebook Messenger to email, while keeping the conversation open and on the same thread.
Channel switching is available for all Service Hub users.

Gif courtesy of HubSpot
Service Level Agreements (SLAs)
The new feature enables Service Hub Professional and Enterprise users to incorporate Service Level Agreements into their inbox. This allows you to prioritise incoming customer requests based on how important and urgent they are, positioning your team to better meet customer expectations. You can use the SLA feature to set working hours, create custom automation, and report on progress and attainment.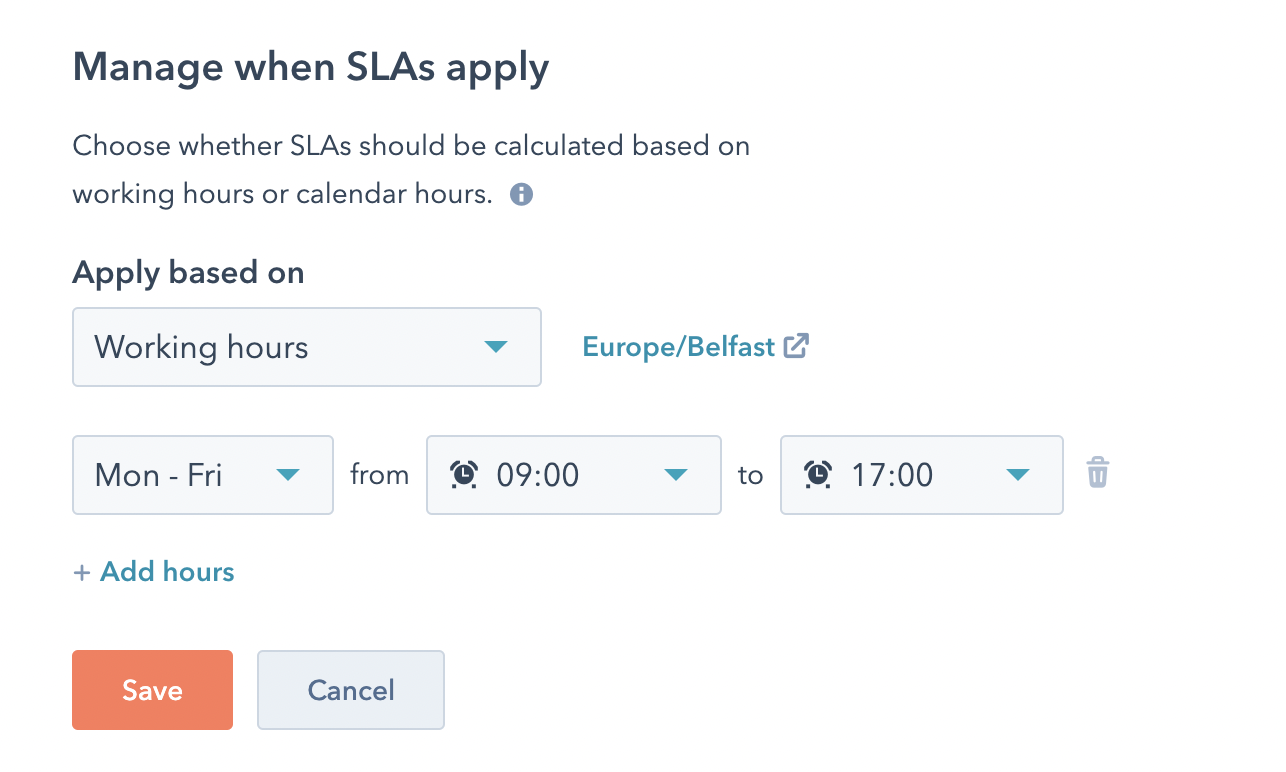 Customer portal
With the new customer portal, Service Hub Professional and Enterprise users can create a personal space for their customers to interact with support. Customers can view, open, and reply to their support tickets all from one place. This feature helps to keep ticket conversations going between customers and reps, so issues are resolved faster. Your customer portal can also be customised to match your brand.
Benefit From the Latest in MarTech
HubSpot has made great strides developing new options for the tools they have in place. We've said it before and we'll say it again – there's a lot to be excited about, even if you're not yet a HubSpot customer!

HubSpot is leading the charge when it comes to introducing new features, and that is something that any marketing and sales professional needs to keep an eye on - why not engage with a digital marketing agency like Innovation Visual to help you benefit from the latest in MarTech? Reach out to our team to find out more.