Hi, my name is Hannah and I have just completed my first full week as a Creative Marketing Executive at Innovation Visual!
My Background
My career background is in Public Relations, where I covered the luxury, consumer and healthcare sectors. Some of my responsibilities included writing and designing content for globally used materials, directing video and animation production for marketing purposes and managing social media for social media campaigns.
What did I do in my first week?
I met with Tim on the first day, who introduced me to the team and helped me get set up on my desk. The whole team made me feel very welcome and I even received some welcome gi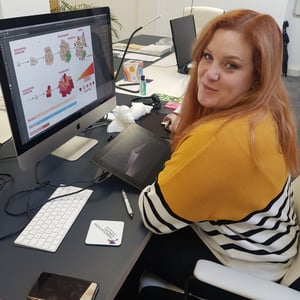 fts, including my business cards and a very useful Innovation Visual branded notebook!
I felt included in the team straight away, starting with an induction meeting with Tim on Innovation Visual's clients, company philosophy and branding. I was then brought up to speed on Innovation Visual's processes and task management systems by different members of the team throughout the week, to ensure I hit the ground running. I also completed some enjoyable creative tasks over the week, including designing templates, editing images and drafting social media posts.
What's to come?
There are already exciting things happening for the next couple of weeks, including the set up of Innovation Visual's video department and a team outing of bowling, food and drinks (the best way to my heart)!
One of the many reasons I wanted to work for Innovation Visual was the company's focus on training and development to ensure each team member flourishes professionally.
I'm really excited and looking forward to my future with Innovation Visual. My primary focus is to continue developing my skills and producing the best creative content I can for the company and their clients.