Hi, my name is Ellie and I have just completed a four-week internship at Innovation Visual. I have recently finished my second year at the University of Kent studying a Bachelor of Science in Economics with a Year in Industry. I finished my placement prior to embarking on my placement year with the Government Economic Service in September.
My First Week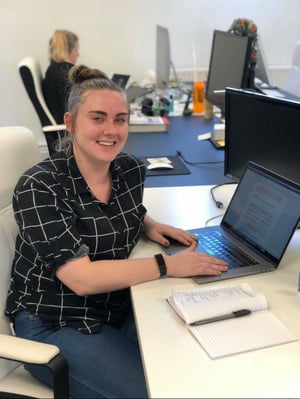 I met Tim and the rest of the team on my first day, who made me feel very welcome and helped me to settle in quickly. Before starting, I little understanding and experience of digital marketing however working at Innovation Visual has given me a taste of various digital marketing strategies.
My first week went by in a flash and I had already covered a wide variety of different tasks which gave me a real taste of what it would be like working here. I even got to take part in a team outing of a competitive litter picking walk across the common to the pub, and I'm pleased to say I was on the winning team as well!
What I Learnt: An Introduction to Digital Marketing
Keyword Research and Link Building
Keyword research was the first challenge I faced but by doing it, it gave me an in depth understanding of the client's business and highlighted the importance of identifying the right keywords to target for SEO to be effective. Despite using Google so often in my everyday life, I had little understanding as to what goes on behind the scenes and as to why and how websites rank. Having witnessed this process, I now have a better understanding of why it is so important for companies to execute this correctly.
Link building using broken links was another strategy and digital marketing activity that I also got to look at. I found this to be a useful tactic for regenerating 'dead' content by getting a new link to the client's page in its place whilst also discovered that high quality links to a website are an essential ranking factor.
Developing Meta Titles and Descriptions
Well worded meta titles and descriptions are essential to have a webpage that ranks well. They need to be clear and concise yet still descriptive enough for the search engine to understand the content of the page as well as to make people want to click on it as this is what appears in the search engine results.
Writing meta descriptions was particularly challenging as they had to be longer than the meta title and still ideally be within 160 characters while still effectively explaining the content of the webpage. Taking a look at similar examples written by other members of the team helped me to understand how best to do this without lifting content straight off the page.
Writing and Promoting Content
As Twitter is one of the biggest social media platforms worldwide it is important to maximise every opportunity by reaching out to current and prospective customers. I wrote scheduled daily tweets for clients and ensured they linked to relevant pages on their website without being repetitive but still being creative. This was slightly easier than writing meta descriptions as I was able to use up to 240 characters instead of 160! While writing the tweets it was important to think about when they were going to be scheduled and using relevant hashtags so they could reach the right audience.
Another challenge I faced was writing on page brand descriptions for clients. I found out that on-page content is another important ranking factor, whilst enhances the user experience. Writing effective contnet meant I had to have a good understanding of a clients' business and the services and products they have.
I also had the opportunity to write a few blogs during my time at Innovation Visual. This was a great chance to learn about different types of content and how to write in various styles.
Research Tasks
During my internship, I undertook several content research tasks. This involved compiling data and doing some data analysis which was right up my street! I have learnt about the importance of writing original and unique content as Google will penalise you for duplicate content.
Research is so important for gaining in depth understandings of particular topics and making sure it is relevant to the task whilst it is a particularly important skill to develop in order the best able to research efficiently and effectively.
Thank you Innovation Visual!
Throughout my time at Innovation Visual I have been well supported by the entire team who have involved me in a real variety of tasks. One of the nice things about being at Innovation Visual is that it has put me outside of my comfort zone of what I am doing and has given me many practical opportunities for learning. It opened my eyes to what a career in digital marketing could be like whilst giving me several transferable skills that I can use elsewhere.
I have really enjoyed my time here and have learnt so much more about digital marketing than I had imagined! I would like to take the time to thank Tim and the team for giving me this opportunity and making me feel welcome and a part of the team right from the get-go. And as they say here, everyday really has been a school day!
We are always on the lookout for enthusiastic interns who are interested in a career in digital marketing. If you would like to find out about future internship opportunities at Innovation Visual, contact our friendly team.