BrightonSEO is the world's most popular digital marketing event and with it taking place twice a year, it's the gift that keeps on giving!
Team Innovation Visual Gets stuck in!
Yesterday the Innovation Visual team took a trip down to Brighton in order to immerse themselves in digital marketing tips, tricks and even stuffed animal's courtesy of SEMrush! This year was bigger and better than ever, with more speakers, more people, more knowledge and more opportunity. The team didn't hesitate to get stuck into the action.
What did our team get up to?
Our Innovation Visual team have a very diverse skillset. We are lucky to have our very own tech guru and point of contact for all things SEO, Oktawiusz, and it turns out that drinking vodka isn't his only interest! Oktawiusz took the opportunity to listen to some rather interesting talks regarding some rather technical SEO jargon and even managed to bag a seat at the keynote talk with Gary Illyes, Google's Webmaster Trends Analyst. The keynote talk covered topics such as algorithm updates, Mobile-First Indexation 2018 and how to perform effective link building.
Innovation Visual's resident PPC expert, Clotilde, managed to witness some insightful information from BrightonSEO and I'm not talking about our new foxy friend! Clotilde attended a number of talks throughout the course of the day, but the one she found most helpful was about advanced keyword research, which took this important task a whole step further by focusing on the customers rather than the companies. Keyword research is important to any business as choosing the right keywords allows you to optimize your website and produce relevant content so your website appears in search results.
Last but not least, Alex's revolved around focusing on content strategy, email marketing and link building. He found 'The Future of Search' talk particularly interesting, with information about social listening and how all SEO's should be paying close attention to voice search.
It was great that voice search was discussed because Innovation Visual are already working with some on our clients on optimizing for voice-based queries. However, it was rather telling that when the speaker Saeley Johnson asked the crowd who was working on voice search with their clients hardly any hands actually went up. Innovation Visual's were among the few that did.
Voice search certainly shouldn't be ignored, especially with Google predicting that 50% of searches will be voice searches by 2020.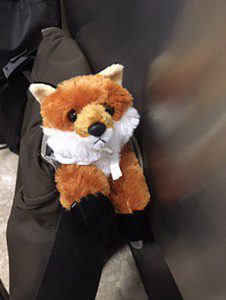 We cannot wait for the next one!
With the digital marketing industry constantly growing and changing, we cannot wait for the next BrightonSEO to keep the team up to date with the latest developments. Every time the team attend the event we come back with fresh ideas about how we can help our clients, as well as confirmation that we are focusing on what we need to be to deliver outstanding results.
The team at innovation Visual would like to thank all speakers from BrightonSEO and the organisers for making it one to remember. A special thank you also goes to SEMrush for our new furry friend Foxy, who happily sits on Alex's desk and constantly reminds us of the importance of keyword research!
See you again in 2018 Brighton!