Following on from our What Will Google's Core Web Vitals Algorithm Update Mean For You? We take a deeper look at Core Web Vitals, what they are, and what they could mean for your website.

In May 2020 Google first announced their intention to add enhanced user experience factors into the core algorithm. As part of this roll out, the Core Web Vitals (CWV) update is due to be released during June 2021.

Essentially Core Web Vitals centralises a number of user experience factors found in the Page Speed Insights report to make them easier to identify, track and improve.

It's worth noting that at present it appears only a small percentage of websites are performing in line with Google's standards in these areas. That means after the update rolls out in June, it is possible that a number of underperforming websites will see a negative impact on performance as a result.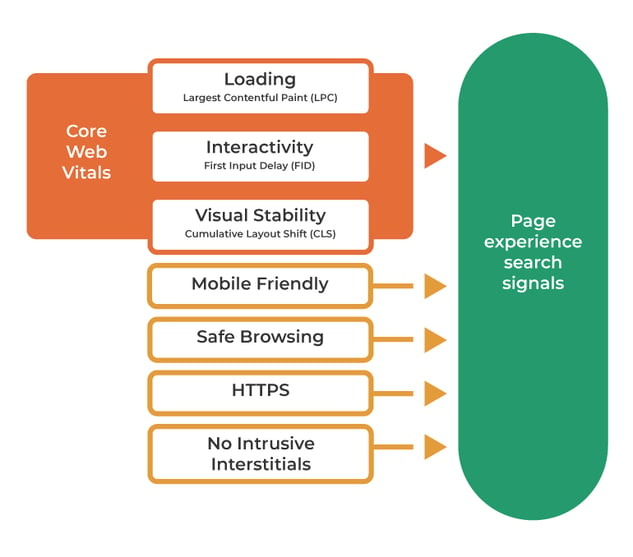 IMAGE CREDIT: Google Developer Blog

Will the Core Web Vitals Update Affect My Business?
There is widely varied opinion about how much and how hard the CWV will hit websites. Speculation ranges from 'not very much', to a more dominant feeling of 'actually quite a lot'. In truth, we don't know yet, but the level of impact will almost certainly correlate directly with how the website performs against the three core aspects of the update, as explained below.

Whether your website feels a negative impact from the update depends very much on the quality of certain UX elements which help determine whether users visiting your site will have a positive experience.

While CWV represents just three of a huge number of ranking factors which can affect your website's ability to rank organically, they are likely to hold added weight for search engines as well as for users and should not be ignored.

CWV are part of a much larger picture of the health and quality of your website and other factors, such as the quality of your content, play a large part too. For example, if your website holds a wealth of high quality, unique content with great traction and engagement, CWV may matter a little less. If not, it may matter a little more.

How Might the Core Web Vitals Update Affect My Rankings?
When thinking about Core Web Vitals and the impact the update may have on your website it helps to think about the bigger picture. For example, you may decide that your site is doing ok and CWV needn't be a priority, but have you checked your competition? How are they doing? Have they made any changes recently?

Even if you are already checking out the competition regularly using Google tools, the data from most relevant tools is almost a month old before you see it, so it is not necessarily accurate. If your competitors have been working hard behind the scenes to prepare for the update, you are unlikely to know about it which may leave your rankings heading downhill while theirs increase.

The key is to weigh up the risk of the competition overtaking you in organic results and how that will affect your traffic and conversions to determine how much attention you should pay to the CWV update.
What are the Key Elements of the Core Web Vitals Update?
The three key elements of the CWV update are:
Largest Contentful Paint (LCP)
How long it takes for the largest content element to appear on the screen. A fast-loading site provides a better user experience and increases interaction. Users do not like to wait, and if the main element of the page is slow to load they are likely to become frustrated, or find an alternative site to convert on.
First Input Delay (FID)
How long it takes your site to react to the first user action taken. If a user has to wait after taking an action, such as tapping a button, the user experience is degraded. It measures the time from when the user clicks an element, to the time it takes that element to react. If you already employ user testing software to track behaviour you will know the frustration of the user who has to click an element multiple times to induce a response.
Cumulative Layout Shift (CLS)
How stable are your screen elements, for example, does the menu shift around while loading, or chat bots and cookie policies get in the way? Moving elements slow down the user journey, cause users to tap the wrong thing, and lead to frustration and higher exit rates.
What Can I Do To Prepare For The CWV Update?
As suggested above the CWV update may affect your rankings negatively if your site is under performing generally, or against your competition.

The Google Search Console (GSC) Page Experience report summarises your performance against the three key factors involved in the CWV update. This gives you an idea of where your website sits in the grand scheme of things when it comes to user experience performance, and highlights areas for improvement. The Google Search Console report is really just a summary of performance, you'll need to dig deeper to get to the root of what needs to be done. It's also important to remember that this report is not static, and results will change periodically.

If you do decide to make changes, ensure you start with your top organic traffic pages to help minimise traffic loss. For example, if the page that is reported to be the worst performer receives little or no traffic, put it on the back-burner and focus on more important pages, even if they are performing a little better. Track your performance in GSC to see what effect your changes have on your Page Experience report.
How Can Innovation Visual Help?
Our team of technical SEO experts are well-versed in developing strategies to manage the effects of algorithm changes. If you are concerned about how your website rankings could be affected after the update in June, then we can help.

With an effective strategy and clever implementation, we can work with you and your developers to protect your website and mitigate the potential effects of the Core Web Vitals Update.
Get In Touch
Make the most of the time available and get started now. You can reach us by using IVybot, our chatbot on this page, calling us on 0333 772 0509 or getting in touch here.