You may be aware that Google is planning to update their search algorithm by implementing Core Web Vitals as a search ranking factor, this update was initially scheduled for May 2021, but it has now been pushed back to mid-June 2021. However, it's well worth being aware of the planned changes so that you can be ahead of the game in managing their potential impact on your website ranking and visibility.

What the Core Web Vitals update is going to be about?
The idea of Core Web Vitals (CWV) covers various metrics of your website performance, like loading time, interactivity, visual stability, mobile experience and other experience related factors. It is going to be called the Page Experience update and, basically, will be related to how fast and stable your website is, especially on mobile. Google's focus is mobile first as we know, but hot on the heels of mobile first as a priority for Google's algorithm is user experience. So, the quality of user experience delivered by your website pages, in terms of speed and usability especially, is a key factor in how well a page performs.
Elements of the algorithm update which were confirmed by Google (according to Search Engine Land) cover:
• It will be rolling out between mid-June and August 2021
• You will no longer see an AMP badge beside your domain name on Google Search
• Implementing a possible page experience badge – but they will keep testing it
• AMP (amplified mobile pages) situation is going to change in terms of news content used on Google Search (at least for some top stories)
• AMP will not be required for ranking on the Google News application
What You Can Do To Protect Your Website Rankings
While these changes will happen, the good news is that there is more time to prepare because the update has now been postponed until mid-June 2021.
In the meantime, Google has helpfully supplied us all with a new report on Google Search Console (GSC) called Page Experience, which can be accessed under the Experience tab for some (but not all) GSC properties today. This report delivers a summary of your website speed, mobile usability, security and even ad experience. This useful resource offers a valuable dataset from which to plan improvements so that your site will fare better once the CWV updates are implemented.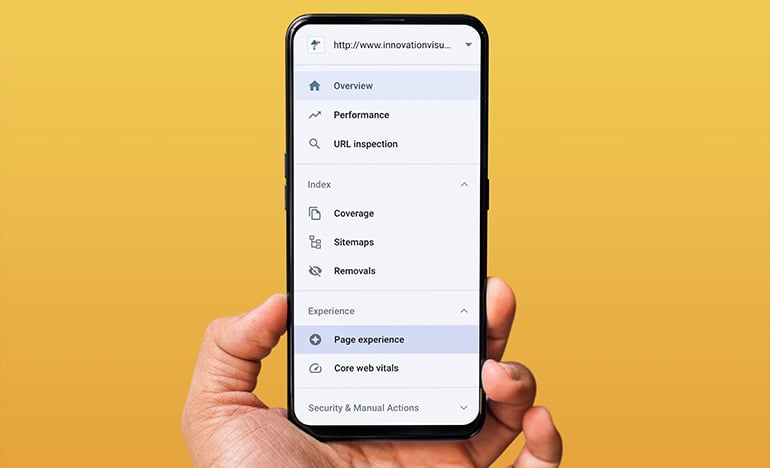 How Can Innovation Visual Help?
Our team of technical SEO experts are well-versed in developing strategies to manage the effects of algorithm changes. If you are concerned about how your website rankings could be affected after the update in June, then we can help.
With an effective strategy and clever implementation we can work to protect your website and mitigate the potential effects of the Core Web Vitals update in June. Make the most of the postponement and get started now. You can reach us by using IVybot, our chatbot, calling us on 0333 772 0509 or completing a contact form.