Phoenix continues to tackle 2020 with aplomb even though it is arguably the toughest year of her career so far.
Innovation Visual have sponsored local young Taekwondo star Phoenix Goodman, for several years. We're delighted that she always manages to make time to update us on her progress, here's what she has been up to since August.
By Phoenix herself:
Gruelling Schedule
Since my last blog on the 8th August I have been busy continuing to train at home.
Weekly Routine

On Monday's, I have an online private virtual lesson with my up north team, Team Ultimate, for an hour. This is a very intense session as my coach Kathy pushes me very hard.

Tuesdays mean an outdoor session with my local team (weather permitting), LMC Taekwondo, where we focus on agility and speed including long distance runs and sprints.

On Thursdays and Saturdays, I train in a hall for an hour and a half with my local team where we focus on leg control and overall agility building.

Wednesdays and Fridays are busy too, with online training with ex GB athlete, Damon Sansum where we focus on technical and tactical taekwondo skills. I thoroughly enjoy his sessions.

On top of this training I occasionally have a 1 to 1 session with my local team coach and ex GB athlete, Max Cater where we work on trying to improve some of my personal targets.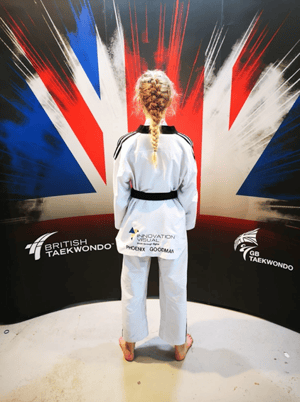 Training Camps
I have also had the privilege to train at the National Taekwondo Centre in Manchester for training camps. All of the following camps followed strict COVID-19 guidelines. On August 17th I travelled for the first camp which lasted 2 days. I was very excited to see both the athletes and coaches and ultimately be a part of the Junior Development team. We completed a full day of training on the first and second day, consisting of 3 taekwondo-based sessions over the whole weekend where we focused on movement and sparring scenarios to get our head back in the game. The other session we did worked on building muscles mainly in the legs. I really enjoyed the camp overall and took away some valuable tips and exercises to do at home.
On the 12th of September I was invited to a one-day camp which was relatively the same as the first but each camp gradually built up to be harder.
And the next was 10th October. I am loving being a part of the team and received my GB attire which made me feel even more privileged to represent the team!
Coming Up
My next session in Manchester is on the 28th-29th November.
Follow Phoenix Goodman
We are very proud to be supporting Phoenix's journey and look forward to seeing her steadily progress, she's an exceptional young athlete. You can follow her progress on Facebook and Instagram too.