Phoenix tackles 2021 like a pro, with a positive and productive mind set and as gruelling a training regime as ever!
Innovation Visual have sponsored local young Taekwondo star Phoenix Goodman, for several years. We're delighted that she always manages to make time to update us on her progress, here's what she has been up to in 2021 so far.
By Phoenix herself:
Elite Development
As a competitor having represented Great Britain, Phoenix is permitted to keep training as part of an elite development pathway, in line with government legislation and safety guidelines.
Junior GB Training
I travelled to the National Taekwondo Centre in Manchester in January for a Junior GB development training session, which followed strict guidelines to keep us safe. We were split into smaller groups of four, with athletes who are relatively the same ability and weight, and focused on coordination and movement. Later we were paired off to focus on exercises and drills that would be beneficial to our individual game plans and ability. We then completed some intense drills which put our fitness to the test. Overall, it was brilliant to be training and kicking people who aren't (my training dummy) Bob!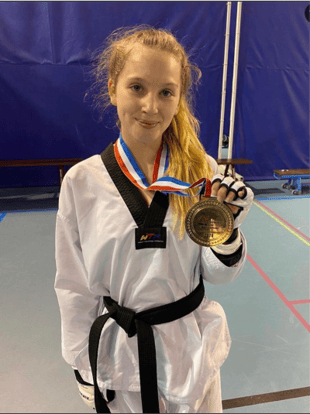 That has been the only GB session so far this year however I am continuing to put in maximum effort and train with Bob during online remote sessions at home.
Training at Home
Remote session consist of a private session on a Monday with my up north coach from Ultimate Taekwondo for an hour which is a hardcore full-on session and improves my fitness weekly!
On a Tuesday I complete a 45 minute session with my local club LMC Taekwondo followed by my own personalised weight training and resistance bands workouts on my lower body to help strengthen my legs and hips.
I do 2 hours of Taekwondo on a Wednesday, 1 hour with Damon Sansum, an ex GB athlete, who I regularly train with twice a week where we do a variety of drills and exercises which I find very enjoyable as he is a very engaging coach. Then straight after I join Team Ultimate's remote session, for an hour.
On a Thursday, I complete my local club's zoom remote session then do my own weight and resistance band workout. In addition, most Thursdays, GB development coaches will host a session of strength and conditioning, chimp management which is ultimately helping our well-being and Taekwondo sessions which may also repeat on a Saturday!
On Fridays I join the remote session again and slo complete 2 hours of taekwondo with Damon and Ultimate Taekwondo.
On a Saturday I do a 45 minute H.I.I.T workout with my local club and then on Sunday I have a well deserved day off!
Thank you Innovation Visual for continuing to sponsor me!
Follow Phoenix Goodman
We are immensely happy to be supporting Phoenix's journey, she is an exceptionally skilled athlete. You can follow her progress on Facebook and Instagram too.