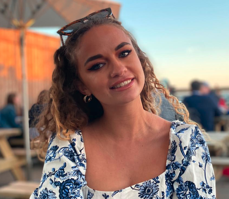 Hello I'm Ellen and I recently joined the wonderful team at Innovation Visual! I will be providing maternity cover for Jo Leeming-Sykes, Executive Assistant to the CEO, Tim Butler. Once Jo has returned from maternity leave, I am very much looking forward to continuing my digital marketing career as part of the IV delivery team. I am particularly excited about this role because of the diversity it offers; no two days are the same and I've been promised they never will be! I am very grateful for this opportunity, particularly during such challenging times.
My Background
I have recently completed my degree in Business Studies with Marketing BA (Hons) from Bournemouth University. Graduating during a pandemic was daunting and I was particularly concerned that I wouldn't find the right job for me until things were more back to normal. However, I feel very lucky to have found this role at Innovation Visual which I believe is going to fit me perfectly!

During my degree I spent a year in industry which was a great opportunity for me to experience the working world and to explore possible career paths. I spent my placement year at an aesthetics clinic in Bournemouth, working as a Social Media and General Assistant. The role allowed me to gain an insight into working within the marketing industry and the variety of opportunities it offers. I also spent time acting as a personal assistant to the owner of the clinic and learnt vital skills such as diary management, organisation and admin that I know will always stand me in good stead.
My first few weeks at Innovation Visual
I have already learnt so much at Innovation Visual. Spending time with each team member (virtually of course!) has given me a great introduction into their roles and what they involve. It's clear that every member of the team is an expert in their field and I'm looking forward to learning from the best! I've also been able to get to know the team better as you usually would in the office, which I believe is very important, particularly as this is my first graduate role!

I have already been given the opportunity to work on some keyword research for one of our clients, which was a great way to gain a better understanding into SEO. I have also been involved in producing content for the IV website and social media channels. There is an amazing training programme in place here, with in-depth, weekly training, which has already given me the opportunity to quickly learn and develop my digital marketing skills.
What's next?
I will spend the next few months getting to understand the business and working with the CEO and the rest of the team. From there I will progress further into digital marketing and using my skills to work with our clients. 2021 is set to be great year for the team and I am excited to see how the business grows!