We're thrilled to announce that the Innovation Visual Team have collectively walked, run, and cycled the 4657 km distance between Godalming and Guinea as a sponsored event in aid of The David Shepherd Wildlife Foundation! The team have put in an extraordinary effort and pushed themselves incredibly hard to achieve this goal. Thanks to all of your kind donations, we were able to raise over £2000 pounds (as at 30/09/21), which Innovation Visual will be matching, meaning we're going to be donating over £4000 to the David Shepherd Wildlife Foundation! This money will go towards supporting the DSWF's critical work in Africa and Asia protecting endangered animals, a cause that's important to all of the IV team.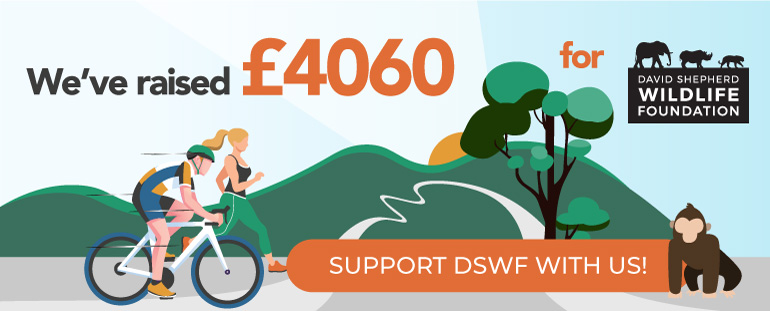 Why Did We Undertake the Challenge?
From the outset of 2021, we had organised a virtual fitness club so we could still have fun and stay active despite the pandemic. During the summer we decided that we wanted to take on a challenge to raise money for the DSWF, and as we were already being active, it made sense to see if we could push ourselves even further. We chose an ambitious distance and the Godalming to Guinea challenge was born.
Why Did We Pick the David Shepherd Wildlife Challenge?
We are already long-time supporters of the DSWF as a business and one of our Directors has supported them for over 20 years. The David Shepherd Wildlife Foundation does key 'boots on the ground' and hands-on work to preserve and protect endangered habitats and species including tigers, chimpanzees and elephants. We are very proud that by pushing ourselves and completing this challenge, we will be helping the DSWF continue their critical work.
''The team at David Shepherd Wildlife Foundation are hugely grateful for all of Innovation Visual's support in this incredible challenge, a huge undertaking and phenomenal effort has been made by their team. In these difficult times we are hugely appreciative at the generosity of everyone involved helping to raise over £4060 towards our mission to Fight, Protect, and Engage on behalf of endangered wildlife around the world. Thank you to everyone who supported this unique challenge.''
Jo Briffit - DSWF

What Will We Do Next?
We've already started brainstorming on what we want to do next so we can keep raising money for the causes that are important to us. One potential idea has been to do the 'Three Peaks Challenge', but no firm decisions have been made yet. Check back soon to find out what's next for the Innovation Visual team!