Innovation Visual are pleased to announce that we are now working with Cooke Brothers to provide ongoing digital marketing services.
About Cooke Brothers
Cooke Brothers has been a family run producer of hinges for domestic and commercial environments since 1872 and is now widely known as a leading UK manufacturer specialising in the design, development, manufacture and supply of high-performance Architectural Hinges, Architectural Hardware, Glass Door products, Shelving Strips and hinges for bespoke applications.
In addition to manufacturing and supplying a broad range of hinges, the website also offers a wealth of Information designed to help their customers decide on the best hinge for their requirements. They pride themselves on excellent customer service and having long-standing relationships across the UK.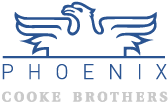 Providing Digital Marketing Services for Cooke Brothers
Cooke Brothers want to increase the number of MQLs sent to their sales team for offline sales as well as increasing the number of online sales to commercial customers and consumers. They sell to both B2B and B2C, which presents a key challenge with regards to targeting two very different markets from the same website.
On-page Optimisation
A series of simple changes will help to improve organic search visibility, user experience, click through rate and site navigation. The Home page is likely to be one of the highest-ranking pages for important and branded keywords – this could be optimised better with more relevant, key word rich, and up to date content to help with search visibility.
Technical SEO
General maintenance and servicing of the website SEO, including fixing any broken links and ensuring that there is a functional site map will all help drive traffic to the website.
Content
The Innovation Visual team will implement a content calendar based around the keyword research. A monthly campaign will be run in conjunction with a monthly product-lead multichannel campaign that will include post, email, paid and content. We will also create video content, on-site of featured products to match the monthly campaigns. This will include category/product videos and "How To" videos.
Conversion Rate
Cooke Brothers produces ranges of products with similar specifications and features. Key word research and a review of the navigation menus suggests that grouping products by key features may be more in tune with how users shop for the products. This will further improve the customer experience and conversion rate.
Paid Search Campaigns
Paid campaigns will be created on standalone pages, which can be noindexed if it is found to interfere with the organic search optimisation strategy. These will initially be created on the existing Google Ads account.
Get in touch with Innovation Visual
Innovation Visual are delighted to be working with Cooke Brothers and we are excited as to how we can further their business goals.
If you would like to find out how we can transform results for your business, then contact our expert digital marketing team.