What is Inbound Marketing? The Introductory Guide & Best Practices
Are you tired of constantly pushing your marketing messages out to potential customers and receiving little to no response? It might be time to switch to inbound marketing.
Inbound marketing is a customer-centric strategy that focuses on attracting, engaging, and delighting customers through relevant and targeted content and experiences. By creating valuable content that addresses the needs and interests of your target audience, inbound marketing can help you build trust, establish thought leadership, and ultimately drive more qualified leads and sales.
In this quick fire guide to inbound marketing, we'll dive into the basics of one of the most effective marketing strategies available and explore how it can benefit your business. Let's get started!
What is Inbound Marketing?
The inbound marketing methodology focuses on using digital marketing techniques, such as search engine optimisation, to provide specific, targeted groups of prospective customers with helpful content designed to solve their specific, identified queries and problems. Instead of focusing on traditional outbound techniques, inbound marketing is about deploying marketing campaigns that utilise the creation of valuable content and then placing that valuable content in front of the right audience at the right time. If done correctly, this should encourage a potential lead to move along your customer journey or down your funnel to, ultimately, purchase and re-purchase from you.
An effective inbound marketing campaign relies upon a number of channels and disciplines, for example content marketing, email marketing, conversational marketing, managed social media and search engine optimisation to name just a few. However, all of these strategies rely on high quality, useful or even personalised content to be successful and deliver results.
HubSpot's Inbound Marketing Flywheel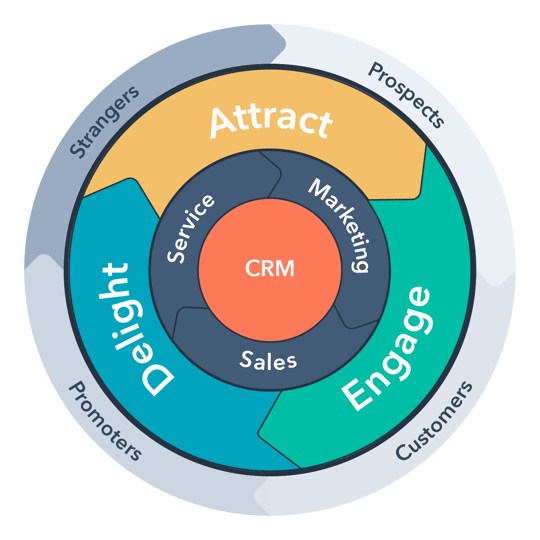 HubSpot Flywheel to demonstrate the process of attract, engage and delight
The Goal of Inbound Marketing
The goal of inbound marketing is to attract prospects from your target audience to your company using compelling and useful content, then continue to engage with and delight them once they have become prospects or customers. The delight stage in particular can eventually encourage customers to become brand advocates that help to perpetuate brand awareness and deliver more leads for your business, bringing us back to the attract stage of the process.
Ultimately, Inbound Marketing turns traditional Outbound, or one-way marketing, into a two-way conversation by supplying prospects and customers with relevant and valuable information that can help build long standing customer relationships. Its ability to build strong relationships that are capable of continually converting leads through brand advocacy is what makes it such an effective marketing strategy
HubSpot are leaders in intuitive Inbound Marketing software, and we're proud to be a partner. Find out more about why we're inbound marketing advocates and a HubSpot partner agency here.
What Is The Difference Between Inbound and Outbound Marketing?
Where inbound marketing efforts focus on engaging with the target audience, by providing the content and resources they need to move down the funnel toward conversion, Outbound marketing refers to the traditional approach of reaching out in a broadcast style, with little targeting or segmentation, to potential customers through various above the line channels to promote a product or service.
Outbound marketing strategies typically involve actively pushing marketing messages to a wide audience, such as through TV commercials, print advertisements, cold calling, or direct mail campaigns.
An easy way to remember it is:
Outbound = outward focused messaging
Inbound = drawing the target audience or visitors into the website by providing exactly the content and resources they are searching for.
While outbound marketing methods are still effective in some sectors, the media generated noise of today's online marketplaces and the changing needs and preferences of the audience, make it a less and less effective digital marketing strategy for any but the largest organisations with the biggest budgets.
The defining factor of outbound marketing is that brands are the ones taking the initiative, and the audience is passive. Compare this to inbound methods where the audience's needs are actively being targeted by using insightful audience data, outbound marketing becomes less targeted and data-driven, which makes it harder to measure success or ROI.
Why Inbound Marketing is Such a Successful Marketing Strategy
Inbound marketing is one of the most successful marketing strategies because of its focus on creating valuable content that provides the user with useful, interesting, educational or entertaining answers to their queries as and when they need it.
For example, if a potential customer was to search for "how to check the oil level in my car" a digital-savvy local garage might have an article on checking car oil which is ranking well on Google's search engine results page. The crucial element here is that this initial article is helpful and genuinely answers the user's query. It also engages with them, offers added value and leads them along a customer journey (at different rates) towards conversion.
This type of useful content, paired with the right user experience, high quality search engine optimisation, and careful conversion rate optimisation create an effective toolkit in attracting, engaging with and converting the right visitors on your website.

How to Get Started with Your Inbound Marketing Strategy
The start of any Inbound Marketing strategy begins with first identifying where the weak areas of your current marketing plan are. For example, are you missing consumer data? Powerful audience insights? Do you lack a certain type of content compared to your competitors? Are visitors using the search functionality on your site and not finding what they're looking for? Is part of your user journey causing friction that is destroying your conversion rate?
If you aren't sure how to go about this, why not have a chat with us? We can work with you to gather all your data and use it to develop the right plan.
This amount of research can feel overwhelming at the start, so to make it a little less daunting we've put together a list of areas to focus on when getting started with your Inbound strategy.
Gather your data
Accurate data and extracting relevant insights from that data are critical to the development of the right inbound marketing approach for your organisation. After all, without insightful data and reporting it is not possible to properly understand how your website and content are performing, how your audiences are interacting with your website, where any points of friction might be and what changes should be made in your inbound marketing strategies to address them.
Understand your audience and their customer journeys
The second thing you will need to develop your inbound marketing strategies is to map out your customer journeys. If you don't already have them, you will need to create personas for each of your target customers. Learn more about creating personas using the 'Jobs to be done' method.
With a clear idea of who your prospects are you can map out their journey from initial awareness through to customer and brand advocate. We have a handy guide all about mapping out the different stages of the customer journey which you can read here.
Sometimes it's no easy feat to map out your specific user personas, which is where working with a marketing agency can be highly advantageous. Our expertise in audience research and data analysis allows us to gather deep insights about your target market, ensuring your personas are accurate and representative. By having a deeper understanding of your customers, you can then tailor your marketing strategies, messages, and channels to effectively engage and convert your ideal customers, maximising your marketing ROI and driving business growth. If you think we might be able to help, tell us!
Harness the power of Marketing Automation
To start using marketing automation, begin by clearly defining your marketing goals and objectives. Identify the specific marketing tasks and processes that can be automated to improve efficiency and effectiveness.
Then, choose a marketing automation platform (we recommend HubSpot and you can read more about why here) that aligns with your needs and budget, and implement it by integrating it with your existing systems and data sources.
Finally, create a plan for content creation, lead nurturing, and campaign workflows, and gradually implement automation features, testing and optimising along the way to ensure a smooth transition and effective use of marketing automation in your strategy.
Compile your content ideas into a content plan
Having a solid content plan is key to a successful inbound marketing strategy. A well-crafted content plan provides a wealth of different content for various inbound nurture strategies that help attract new prospects to your business, keep them engaged, and ultimately convert them into loyal customers.
By developing diverse and valuable content that caters to the needs and interests of different customer segments, you can effectively build trust and credibility with your audience, establish your brand as an authority in your industry, and foster long-term relationships with your customers. Moreover, a content plan helps you to streamline your content creation efforts and ensure that your content is consistent, relevant, and aligned with your business goals and objectives.
By integrating your content plan with various inbound marketing tactics, such as SEO, social media, and email campaigns, you can amplify your reach, generate more leads, and achieve a greater ROI on your marketing investments.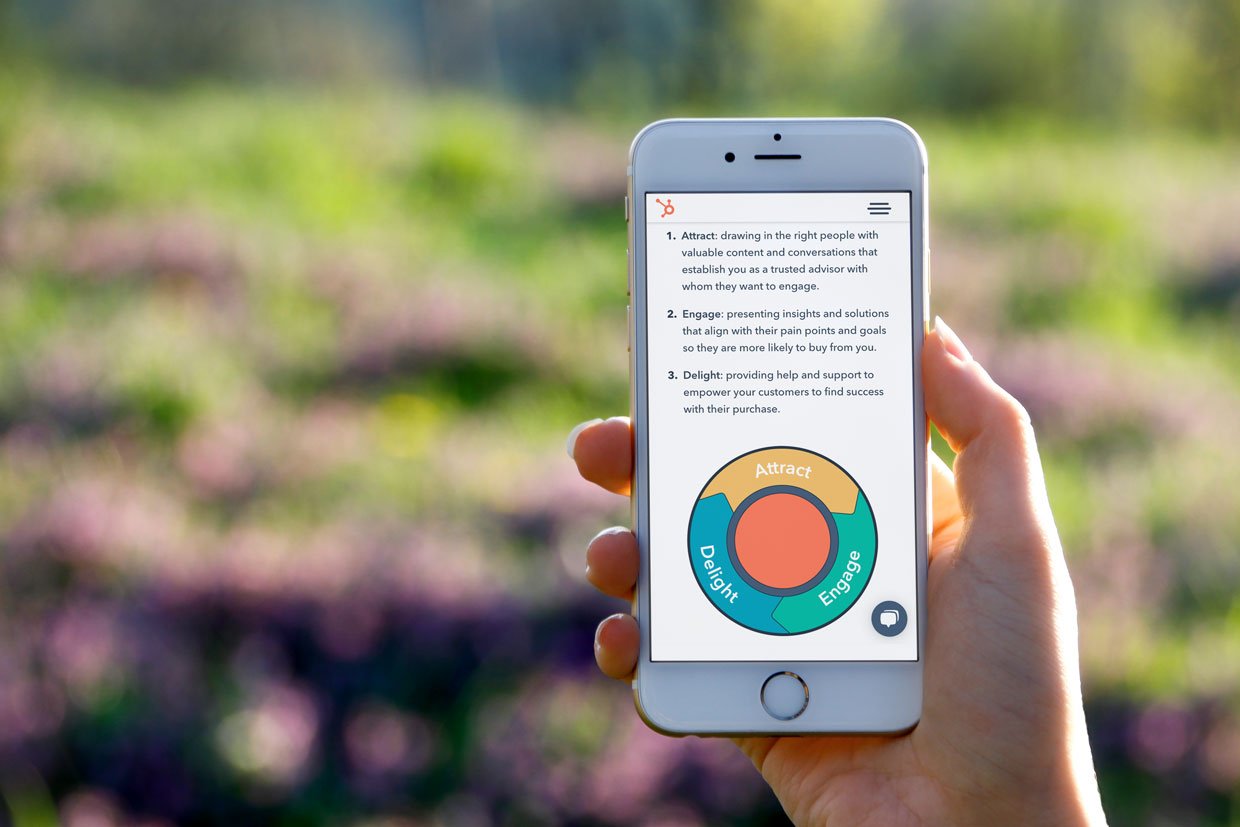 How To Grow Traffic & Conversions With HubSpot
As we've seen, deploying the right inbound marketing strategy for your business is critical to ensuring success in today's digital era, but partnering with a marketing agency that boasts a team of inbound marketing experts can greatly enhance the success of your inbound marketing strategies.
Their deep industry knowledge, experience, and skill set allow them to develop comprehensive strategies tailored to your specific business goals and target audience. With their guidance and expertise, you can benefit from the latest tools, techniques, and trends in the ever-evolving marketing landscape, ensuring your campaigns are effective, efficient, and optimised for maximum impact.
Entrusting your inbound marketing efforts to a team of experts (like our team at Innovation Visual) leaves you free to focus on other core aspects of your business while reaping the benefits of a well-executed and results-driven marketing strategy. You can find out more about our Inbound Marketing Services here.
Take The First Step Towards An Inbound Strategy That Delivers
Excited to learn more about how Inbound Marketing can work for your business's growth? Book your free discovery call with our own team of experts today. Or, read more about our comprehensive HubSpot certified inbound marketing services.