Using Marketing Automation to Deliver Results & Improve ROI
What is Marketing Automation?
Most types of businesses need to maintain a constant stream of new leads entering the pipeline, as well as staying in touch with existing customers to market new products, services renewals, and upgrades.
Marketing automation helps you do both at a scale. It is the practice of automating marketing processes to reach marketing goals, being able to minimise resources required and achieve optimal efficiency of work without wasting resource and resorting to manual implementation.
Marketing automation can automate these tasks and handle much more, at scale:
Managing contacts and maintaining data integrity
Running workflows to manage internal automated processes
Nurturing leads
Scoring and pre-qualifying leads
Running chatbots on your website
Following up on form submissions
Allocating tasks
Driving dynamic pipelines
This article explains how marketing automation works and provides insights on how it can help you run your marketing more efficiently. If you are interested in a breakdown of marketing automation features currently available in HubSpot with examples of how to use them, make sure to read the sections below.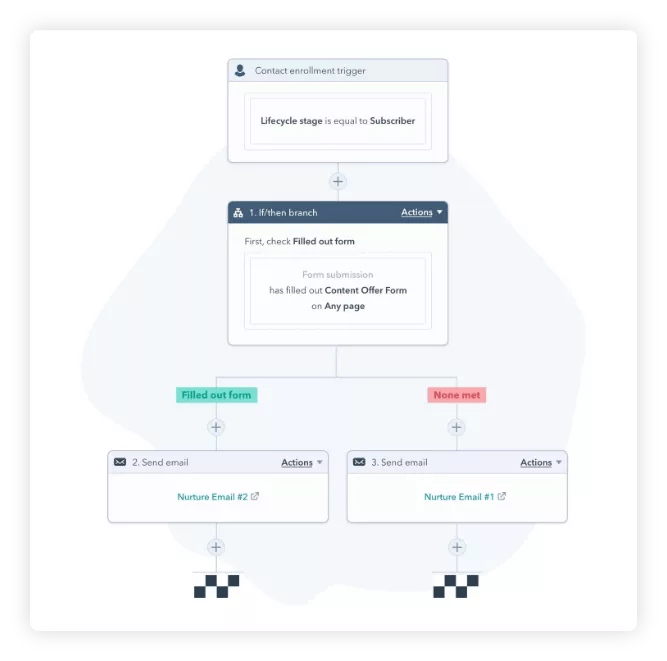 Screenshot from HubSpot
How Data Impacts Marketing Automation
Sound data management practices are a must for marketing automation to be effective and useful. As marketers have more data about their customers, they're able to personalise their marketing messaging for each lead. Having access to and a clear view of the right data provides you with the context you need to deliver personalised experiences that attract and convert customers at scale.
Giving Marketers Opportunities to Experiment
Marketing automation, as opposed to manual outreach and lead nurturing, creates opportunities to track your campaigns, whether it's attributing leads to sources, such as organic content vs. paid ads, or keeping tabs on your email and campaign engagement metrics.
Having your marketing automation tool linked to CRM to create one source of truth opens doors to analytics you wouldn't otherwise have access to with manual campaigns, so you can build on top previous experiences and do more of what works.
Likewise, for activities that don't drive revenue as successfully, you get a chance to discontinue them or optimise them — making it a data-driven decision each time, rather than reacting on hunches and cues.
What's most important is that you aren't relying on benchmark data and results from other marketers, but are able to develop your own benchmarks, testing what resonates with your audiences and continue to learn from them to serve them better.
Using Marketing Automation to Drive Your Marketing Results
Different types of automation serve different purposes. HubSpot offers plenty of options, many of which are available in the Free plan, giving you a chance to explore how you can optimise your business while you grow.
Form Automation
Purpose: Send automated emails after submissions from popups and forms embedded on your website.
When is it useful: Form automation is ideal if you have groups of leads that face similar challenges, where an automated message would cover some of their questions or help them move towards a solution. You can further segment leads based on form input and send them down different paths of automation.
Why is it useful: It allows you to respond to your leads promptly when they still remember why they engaged with your business. Following the initial response, you can continue to nurture your leads and deliver value through timely content.
Example: A SaaS company nurturing trial users with messages on how to make the most of the trial.
Applies to all products and plans (including Free and Marketing Hub Starter).
Email Automation
Purpose: Segment and personalise your marketing with automated email nurturing.
When is it useful: Whenever you can benefit from following up on any action your leads take via your website or other channels. Provided you have their email and permissions to send, you can turn every interaction with a lead into an opportunity to deliver more value.
Why is it useful: Multiple emails can be scheduled at specified intervals to maximise engagement and influence more revenue.
Examples:
An eCommerce company sending abandoned cart emails with a limited time discount offer.
A direct-to-consumer brand requesting product reviews via a post-purchase workflow.
Reminder to engaged prospects that your event is coming up, with supporting information, benefits, ticket options etc to drive registration.
Basic automation is available in all products and plans.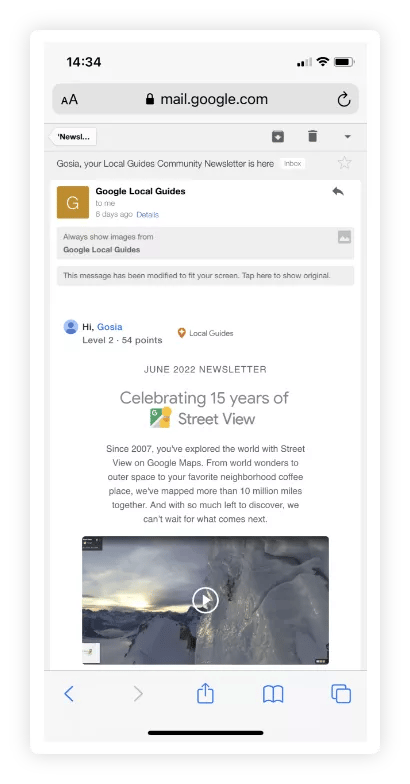 Email personalisation example from Google Local Guides
Ad Retargeting
Purpose: Display ads to users who have already visited your website by retargeting them on Facebook, Google, or LinkedIn.
When is it useful: Ad retargeting is useful when you want to make sure that your ad viewers have already been exposed to your product or service.
Why is it useful: Rather than targeting new, 'cold' audiences, which is usually harder, retargeting helps you maximise return on your ad spend.
Example: Showing a YouTube ad with top highlights about your product or service to someone who visited your website last week.
Applies to all products and plans.
Conversational Bots
Purpose: Qualify leads, collect and store contact data, route visitors to helpful content, allow them to book meetings in the chat widget, and more.
When is it useful: When you're already directing high traffic to your website, but aren't satisfied with the number of conversions it brings. Your leads may need more personal guidance, which a chatbot aims to provide, or they may simply prefer chat as a method of communication. Apart from native chatbots, HubSpot also includes Facebook Messenger integration, which takes it a step further in terms of meeting your customers where they are.
Why is it useful: Conversational bots allow you to maximise return on investment via other channels, in particular paid ads. They also help you to pre-qualify leads and demonstrate your expertise by asking the right questions. A set of well-planned chat flows can help your visitors find what they want faster, improving their experience, but can also reduce demand on your service teams, leaving them free to support those customers that really need human intervention.
Examples:
A services company asking visitors pre-qualifying questions to determine the level of service that is best for them.
An ecommerce company uses chatflows to help customers find the right product page or information resource, using a series of simple questions.
Basic automation is available in all products and plans.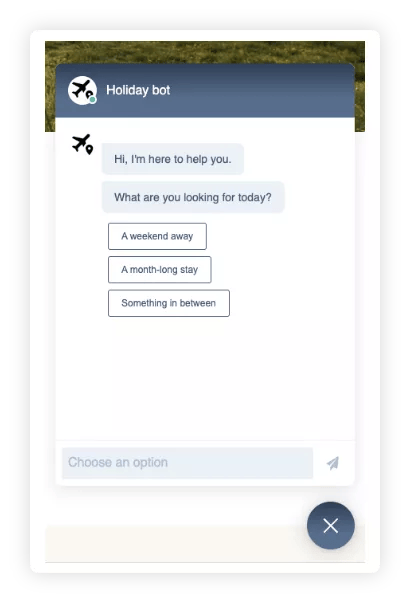 Screenshot from HubSpot
List Segmentation
Purpose: Create contact and company lists based on various criteria using properties stored in your HubSpot CRM.
When is it useful: When a single message can serve a group of your contacts, for example, to move them further along the buyer's journey.
Why is it useful: Creating lists helps you understand the potential impact of your campaign by looking at list size. It also informs future communication with list members based on previous group engagement statics.
Example: A SaaS company targeting customers who are about to lapse on their subscription with special, limited time discounts.
Basic automation is available in all products and plans.
Lead Scoring
Purpose: Create rules-based scoring criteria to identify your most promising leads.
When is it useful: When your business model involves generating a large number of contacts but only a fraction of them meet the conditions to become Marketing Qualified and Sales Qualified leads. Lead scoring helps you score those leads over time based on qualifying criteria that you set, then identify those leads and reach out to them at the right time.
Why is it useful: Lead scoring allows you to focus your outreach on leads that meet your ideal customer profile. Use your scores to segment lists, trigger automated emails, notify sales reps, and more.
Example: A manufacturing business with long led fruition cycles can use lead scoring to assign specific contacts/companies scores that demonstrate their level of engagement based on interactions. High scores=engaged prospects receptive to the sales process. That way the sales team focus on the right people at the right time.
Available in Marketing Hub Professional and above.
HubSpot's offering also includes predictive lead scoring, which uses machine learning to identify your best leads. Predictive lead scoring is available in Marketing Hub Enterprise only.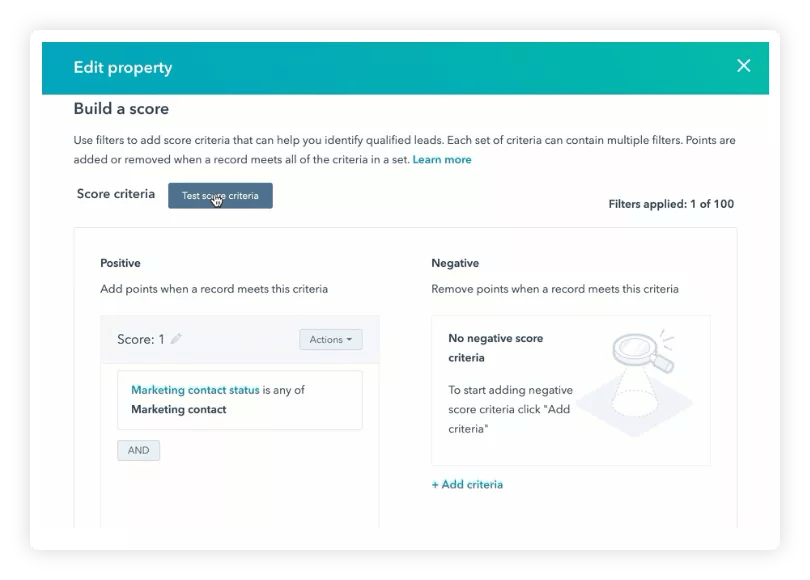 Courtesy of HubSpot
Custom Behavioural Events
Purpose: Track when visitors take specific actions on your website.
When is it useful: When you have a large number of visitors to your website and need to optimise conversion rates to maximise return from that traffic. Also useful when you suspect technical, user experience or other issues could be affecting the usability of your website, resulting in lost opportunities.
Why is it useful: You can use data on visitor behaviour for segmenting in order to target them with specific campaigns, as well as for reporting, to get a more complete picture of how customers are progressing through the buyer's journey.
Example: Monitoring how many times visitors clicked the phone link on your website.
Available in Marketing Hub Enterprise only.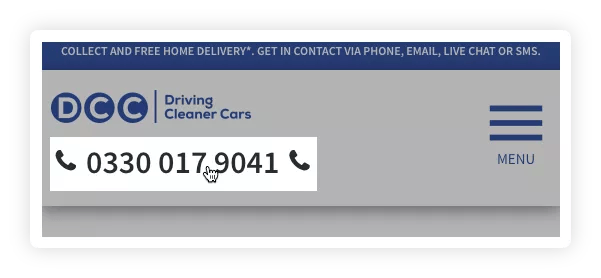 Phone link click example
HubDB
Purpose: Create a custom data table within HubSpot for use in personalised emails, dynamic website content and more.
When is it useful: Whenever you have a list of items you would like to reference in email personalisation or on your website, especially for lists that are relatively long or require frequent updating.
Why is it useful: HubSpot's relational database can be maintained by marketers rather than IT personnel and allows you to reference your data in campaigns easily.
Example: Sending emails to your customers with unique promo codes along with dynamic information on when the codes will expire.
Available in Marketing Hub Enterprise only.
Why Should You Use Marketing Automation?
Countless sources praise the Return on Investment (ROI) of marketing automation. On average, adopting automation enables businesses to increase sales productivity by 14.5%, see an increase in the number of leads as reported by 80% of marketers, and save up to 30% of customer service costs with the use of chatbots, among numerous other benefits.
The success of marketing automation depends heavily on having the resources, expertise and experience in setting up automation for the specific needs of your industry and niche, but there are plenty of ways to increase your ROI that marketing teams can explore on their own. You can also talk to our team if you'd like to get help and learn more about making the most of your marketing automation setup.
Courtesy of HubSpot
Measuring the Value of Marketing Automation
While marketing automation has become a popular tool, many businesses still aren't consistent in measuring their return on investment, which can be attributed to lack of expertise or resources, or an understanding of why it matters. For those companies that do though, the statistics are strong with analysts widely believing that the numbers are understated.
Of course, nothing beats seeing the numbers for yourself. The reporting functionality in HubSpot allows you to understand the scale of influenced revenue and sales deals for each campaign you create. Advanced revenue attribution reports give you a granular view of which activities lead to more sales, so you can make sure that your investment in marketing automation is on the right track.
Getting Started with Marketing Automation for Results
Marketing automation is a useful tool for businesses of all sizes, and HubSpot has suitable offering at all levels from Free, through Marketing Hub Starter and Professional to Enterprise. Why not talk to Innovation Visual and find out more about how marketing automation could supercharge productivity and ROI in your marketing?