As 2019 draws to a close, Innovation Visual are delighted to have been able to make our largest donation yet through the 1% for The Planet scheme. Taking care of the environment is hugely important to us here at Innovation Visual and we've been dedicated to donating a minimum of 1% of profits to eligible causes since 2012.
Tim Butler, Innovation Visual's CEO said: "Innovation Visual is committed to being a responsible and forward looking organisation and this extends beyond the way that we view our clients and our team, to include our impact on the environment and natural world that we are part of. We have been a member of 1% for The Planet since 2012, donating a minimum of 1% of gross turnover to environmental causes each year."
Donating to David Shepherd Wildlife Foundation
We are proud to have been able to present local charity David Shepherd Wildlife Foundation (DSWF) with a cheque for £5000 to continue their work.
"While there are countless other worthy and effective organisations helping the environment and wildlife, we choose to donate the largest proportion of our 1% contributions to DSWF. This is because we are always impressed with their ability to deliver tangible action in multiple areas, from lobbying at the CITES meetings, to funding direct and often dangerous anti-poaching work in remote areas of the globe." Tim continued.
DSWF are a wildlife conservation charity based in Shalford, Surrey with their impact reaching endangered species across Africa and Asia. They raise funds to help protect species including, elephants, rhinos, painted dogs and chimpanzees and work to fight against wildlife crime. They focus their work around combatting wildlife crime issues including supporting ground-based conservation projects and anti-poaching wildlife rangers, as well as fighting for greater legal protection and for demand reduction in countries consuming wildlife products like ivory and rhino horn. They also raise awareness across the globe and empower local communities affected by wildlife crime issues.
You can find out a little more about DSWF by reading about the recent DSWF annual Wildlife Ball, their 35th Anniversary fundraising event in celebration and support of their impact on conservation.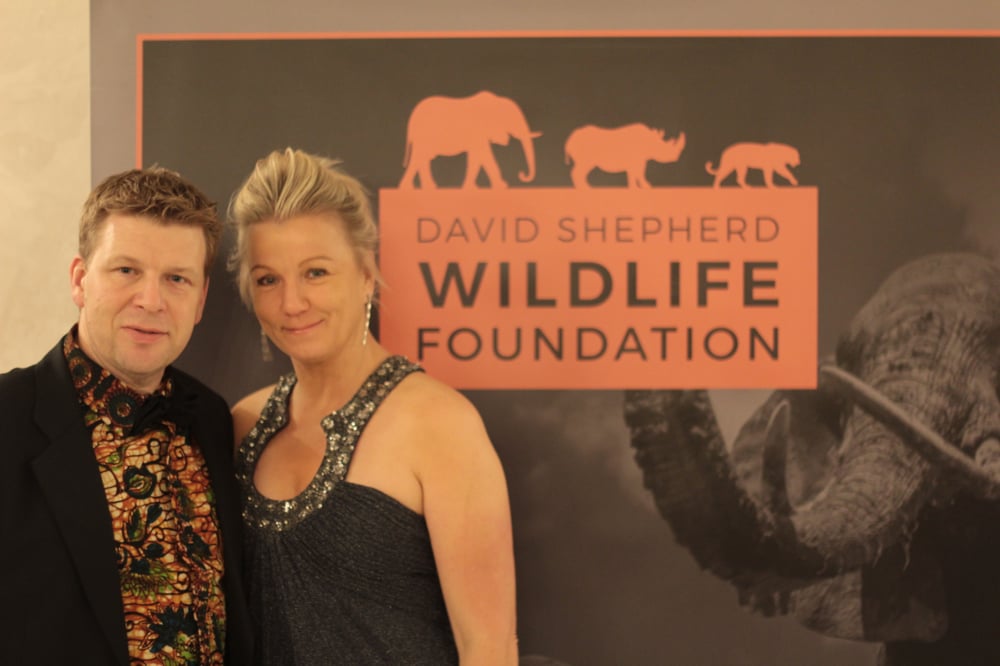 Growing support
Directors Tim and Joanna Culley have been supporting DSWF for many years having been informed and inspired by meeting the charity's Founder David Shepherd. Jo said remembering the meeting: "I met David Shepherd 20 years ago during a presentation he gave in my hometown. I was both horrified by the animal poaching news as well as totally inspired by this man, his dedication and his obvious love of animals also so beautifully captured in his paintings. Since then I have supported DSWF."
This support has been able to grow through Innovation Visual, not only through the 1% for The Planet scheme, but by enabling the DSWF team to have greater effect through their digital marketing. The Innovation Visual team has been working closely with the team at DSWF offering pro-bono training and digital support; with both teams sharing knowledge, inspiring one another and enjoying working together.
"To now be in a position to make a substantial donation that I know will be used directly to help wildlife makes me very happy." Added Jo.
Find out more about how we support DSWF through digital marketing.

An essential thank-you
"I would like to thank our clients and our team, without which we would not be able to donate such a substantial sum to DSWF and we look forward to continuing to increase our donations as Innovation Visual grows for many years to come." - Tim Butler, CEO
You can find out more about our dedication to supporting environmental causes and our commitment to the 1% for The Planet scheme on our website or keep your eyes out for our upcoming blog about how making small changes can reduce plastic waste in your office!