Innovation Visual were both proud to attend and inspired by the David Shepherd Wildlife Foundation's (DSWF's) annual Wildlife Ball this November. This year's 35th anniversary fundraising event celebrated and supported DSWF's dedicated, vital and continued work to protect endangered species across Africa and Asia. Innovation Visual's Directors, Tim and Jo, joined a star-studded crowd of more than 300 people at The Dorchester in London, showcasing their support for the charity's continued impact fighting against wildlife crime. Among those putting their name in the limelight for conservation was the renowned Dame Judi Dench, actress Pam St Clements, singer Laura Wright and cricketer David Gower.
"DSWF's fundraising ball at the Dorchester was a fantastic event and Tim & I were thrilled to be able to attend. We were impressed that they served only vegetarian food, putting into action what so many of us need to do. While the event was enjoyable it was also tinged with sadness given the pressures that wildlife is facing around the globe with 1 in 10 species now facing extinction. It makes the work of organisations like DSWF even more vital and urgent." - Joanna Culley, Director, Innovation Visual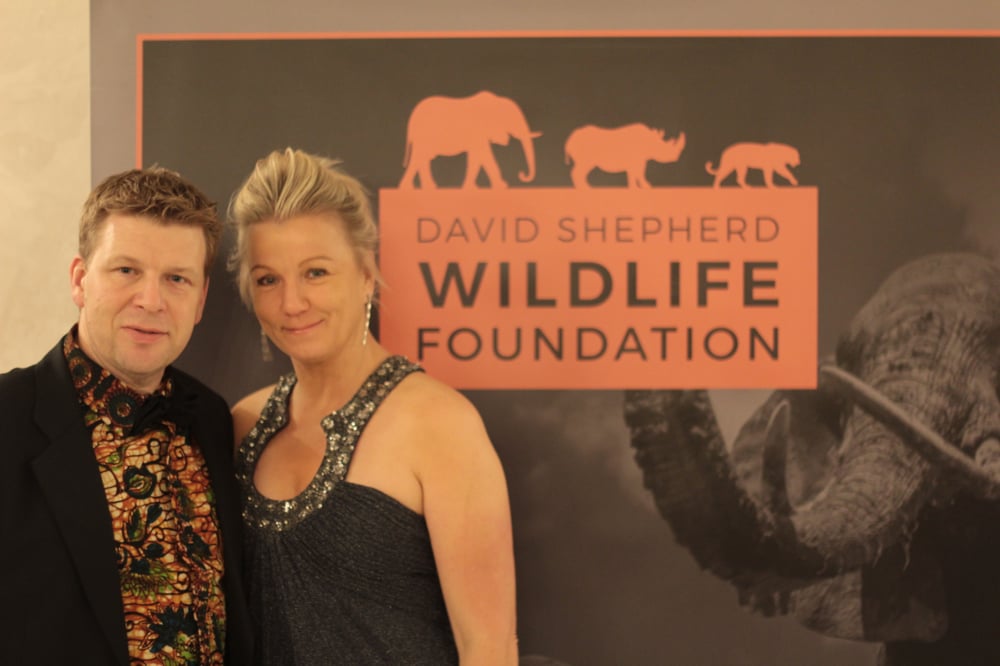 For Conservation
Conservation was at the heart of the evening with leading conservationist and journalist Mark Carwardine hosting the night, using his extensive knowledge of wildlife to remind guests what the event is truly all about. While humbling to face the reality of the poaching and wildlife crime crisis across Africa and Asia, the evening inspired hope and overwhelming support raising over £160,000 to continue DSWF's work.
"I met David Shepherd 20 years ago during a presentation he gave in my home town. I was both horrified by the animal poaching news as well as totally inspired by this man, his dedication and his obvious love of animals also so beautifully captured in his paintings. Since then I have supported the DSWF. To now be in a position to make a substantial donation that I know will be used directly to help the wildlife makes me very happy. Wildlife conservation is not just necessary but vital. To think about losing animals to extinction is terrifying. Once they are gone, their environment is gone, our lives as we know and love will never recover. We are all as one with nature, what will we do without it?" - Joanna Culley, Director, Innovation Visual
Conservation is very close to the heart for Tim and Jo and the team at Innovation Visual. They have been supporting the Foundation for many years and have grown this support within Innovation Visual through the 1% for the Planet scheme and through providing pro-bono digital marketing support including equipping the DSWF team with skills needed to help their website best preform for conservation. Find out how we support DSWF with digital marketing services.
Dressing in support of sustainable fashion
Tim and Jo dressed up to the glamorous occasion - Tim dressing on theme in African print and showing support to Innovation Visual client Kitenge's ethical clothing range. Tim's made to measure shirt was ethically made by Kitenge tailors in Tanzania both promoting sustainable fashion and supporting tailors, their families and the local community.
"With the DSWF ball having the theme of "Out of Africa" it was an obvious choice to wear one of Kitenge's beautiful shirts that are handmade in Tanzania. I have never had so many positive and kind comments about a single piece of clothing at an event before. It not only turned heads but absolutely worked in a formal environment, which I might never have considered the brightly coloured Kitenge shirts would work. I am certainly going to be wearing it again to black tie events, even those ones that are not African themed!" - Tim Butler, CEO, Innovation Visual
A steadfast commitment to conservation
DSWF are a wildlife conservation charity raising funds to protect endangered species across Africa and Asia. Their eight core species include, Rhinos, Tigers, Elephants and Pangolins and they address wildlife crime issues including poaching for ivory or the illegal pet trade. Their work includes supporting ground-based conservation projects and antipoaching wildlife rangers, supporting and empowering communities affected by wildlife crime, and fighting for greater legal protection and for demand reduction in countries consuming wildlife products like ivory and rhino horn.
Georgina Lamb, David Shepherd's Granddaughter, - known to those around her as Peanut said: "DSWF is a beautiful combination of those two things. We provide an unwavering voice for conservation and are steadfast in our commitment to supporting real conservation efforts and the brave men and women who are having a real impact in keeping some of the planets most vulnerable and threatened species alive."
DSWF premiered this powerful short film at the Ball:
DSWF said about the event: "We'd like to say a huge thank-you to all who attended; to our guests, performers, artists, auction donors, sponsors, volunteers and staff, who were all part of making the evening so special. Because of you, the evening raised over £160,000 to together continue the fight against wildlife crime. We are touched and sincerely grateful for the impact that your part played will have on protecting some of the world's most precious and endangered species."
Thank you DSWF for having us, it was a truly dazzling and insightful evening – we look forward to another year working together to promote DSWF's presence online.
You can find out more about our support of DSWF on our site or if you'd like to find out about DSWF or how you could support them please visit davidshepherd.org