Everything You Need to Know About SEO
It's hard to get your business noticed without a website or some form of online presence. Today, consumers expect to be able to visit and verify a business online, even if they have only seen it in bricks and mortar. That means that the digital space is highly competitive because all businesses are trying to get the attention of the consumer. To get your website seen ahead of the competition, bringing in customers, and driving profit you need it to be shown prominently by search engines when users are searching for the products or services you supply. This is where SEO comes in.
As online markets become increasingly saturated and competition continues to rise, it is vital that your website pages are able to rank highly in SERPs (Search Engine Results Pages) for search terms relating to your business, and that users have a great experience while visiting your site so that they find it easy to find the information they need, make a decision and convert.
While paid ads will always dominate the very top of search results due to the profit they create for search engines, organic results still make up the majority of search engine results pages or SERPs and generally provide a greater ROI.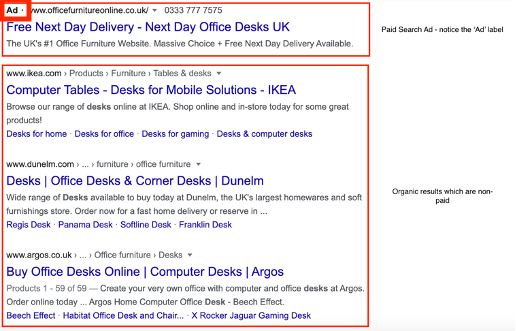 What Is SEO?
Search Engine Optimisation, or SEO, is an umbrella term for the range of practices involved in optimising website pages to increase the quality and quantity of organic (non-paid) traffic delivered to them from search engines. In short this means ensuring search engines understand your website, find pages to be of high quality (and so answer the questions they need to for the user), and that users find what they are looking for and enjoy their experience on your website.
SEO is not straight forward and can be difficult to master, it is also not a one-off action but an ongoing active and dynamic practice. The term SEO covers a huge range of processes which are constantly changing to adapt to the search environment. Essentially, SEO aims to ensure your website pages are seen as a high quality, relevant source for your target audience, and help bring the right users to your website for the right search queries. This should give you an edge over your competitors, and ultimately lead to more conversions and lifetime customers.
The 3 Fundamental Types of SEO
There are a number of subsets of SEO, the main three of which are explained below.
On-Page SEO
On-page SEO is the term used to describe a range of processes and tasks aimed at improving elements of the website you can see 'on the page'. This mainly relates to the content on the page, from the title to the conclusion or summary at the end. Google uses a framework by which page content is assessed and rated. Search engines value high quality content, as do users, and this is reflected in your ability to rank those pages in SERPs.
Off-Page SEO
Off-page SEO relates to external factors which can help boost the visibility a page on your website. Google and other search engines look not only at the page itself, but at popularity, trust and authority signals from other sources. This most often revolves around links from other sites to your pages. These external links indicate to search engines that those sites believe your page to be relevant, trustworthy, and of high quality. As you can imagine, links from better quality sites provide more benefit than those from poor quality or irrelevant sites.
Technical SEO
Technical SEO covers another subset of tasks and processes which are key to a healthy site and effective optimisation. Aspects of your site covered by technical SEO might be crawlability, page speed, mobile usability, information architecture, issues with code, broken links, security, and much more. A site which is technically sound; crawlable, secure, fast, will almost always see better performance than a site which is technically poor. It will also provide a better experience for your users making it more likely that they will engage convert, engage with the site again, and tell others about their experience.

Why SEO Is Important
SEO is a vital part of the digital marketing strategy for every business. As the largest driver of traffic for most industries and with a continued growth not rivalled by other channels, your SEO strategy should be a primary focus for your digital marketing efforts.

Why SEO is Important for Search Engines
Despite huge changes within SERP results over the years, organic results still take the lion's share of results pages, and it should be borne in mind that many users prefer not to click paid ads and will defer to organic results despite them not being the first option on the page. Equally, while paid search offers a quick fix to achieving a good position in SERP results, you pay every time the ad is clicked, whether it results in a conversion or not. Organic results do not require a 'per click' payment, instead building strength over time to return, on average a better ROI and long-term reward.
For your website to gain traction with users you need visibility, brand awareness, and engagement from users who are searching for a business like yours.

Online Visibility
A website is of little use if it cannot be seen. To be visible, your website needs to be ranking in the top eight to ten results but preferably in the top 1-3, quite a feat for queries returning potentially millions of results. Even niche queries will return huge numbers of results in SERPs, all competing for the top spots: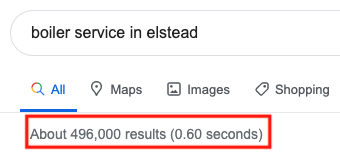 SEO is designed to structure and design the pages and content of your website so it is considered desirable enough by search engines and users to reserve a place on page one of SERP results (page 1 is typically the top ten results).
How often do you visit page two of search results, or further? Notice in the graph below how click through rate declines sharply from positions one to five, and rests under 2% by position ten, or roughly the end of page one. This means that after the first five or eight results, users have ether clicked through to a site or edited their search query if they did not find the results satisfactory.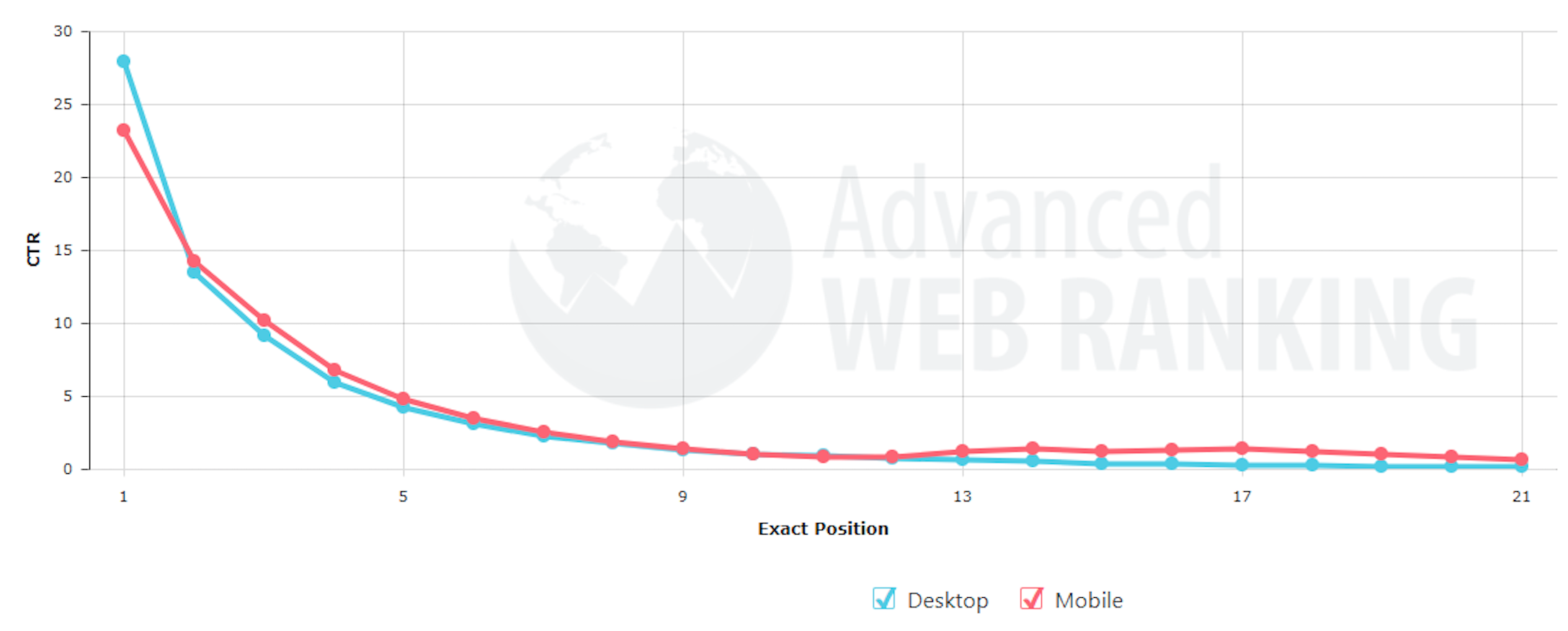 Using SEO best practice and regularly working to improve your website will help your rankings improve and help to ensure you are noticed by the right users, for the right queries, in higher positions than your competitors.
Brand Awareness
Brand awareness helps get your name out and recognised as an authority in your field and a name to be trusted. However, SEO is a fundamental part of reaching users who have not heard of your organisation, and in building that trust and recognition. In the graph below you can see the impact of branded search queries in SERP results. This graph shows that users who search for a brand expect to see it in position one and don't really search further but that users who are searching non-brand terms are prepared to search a little further down the SERPs to find what they are looking for.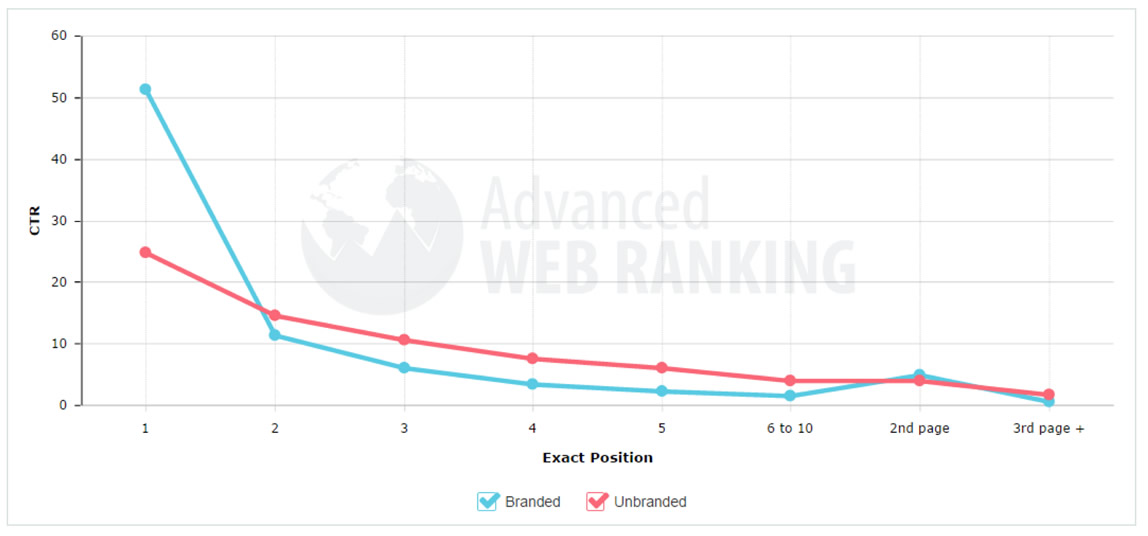 The creation of high quality, useful content for your target audience and the implementation of on page SEO best practice will help increase brand exposure and support your pages appearing in SERPs for a wider range of queries and reach potential customers who have not yet visited your website. This opens your brand up to new audiences and helps start conversation with, and about your brand both online and offline.
Engagement
Monitoring your website data using SEO tools gives great insight into how users engage with your site. This is invaluable in seeing what content is popular and which pages lead to an increase in important site statistics such as click through rate, page views, session duration, returning users, time spent on site, and of course conversions. This data forms the building blocks of further pages and content, showing where your most valuable content is, how you can build on it and where your gaps are.

Why SEO is Important for Users
SEO is not just about climbing the rankings, despite this being a common opinion. Visibility is one thing, but if your users arrive at an old, slow website which does not offer them what they want or expect, they will leave and try your nearest competitor instead. Should the competing site be faster, more slick, populated with better quality helpful content and easier to navigate, it is likely that they will get the business you have just lost.
On page and technical SEO processes are designed to ensure your users have a good experience while using your website, making them more likely to convert, return and tell others of their positive experience.
Ensuring your website provides a great user experience is key to developing a great brand presence and better interactions with your users, which in turn will drive more traffic, brand loyalty, recommendations and ultimately profit.
Examples of Important Elements of SEO
We would need to write a series of books to cover all elements of SEO and how to optimise for them, however there are a handful of fundamental elements which form the basis of a good SEO strategy.

Crawlability and Indexing Capability
Crawlability - In order for search engines to discover and show your website for relevant terms in SERP results, they need to understand it. In order to do this, they crawl the site, working their way through each page, the content it provides, and how it is connected to other pages.
Indexing – Indexing is the term used to describe how search engines measure, compile and organise information found during crawling.
Core Web Vitals
Core Web Vitals are a set of factors which Google consider to be of particular value for crawling and indexing, and more importantly, for the user experience you offer. Core Web Vitals look at elements of your site such as speed, reliability, and stability, helping Google to gauge what kind of experience users are likely to have while using your website.
While core web vitals are far from the only factor to take into consideration, they are the latest official Google ranking factor, likely to take effect from May 2021, and will form part of the page experience set of signals.
Keyword Research
Keyword research
can have a huge impact on your website, positively or negatively depending on how well it is carried out. Well-crafted keyword research will create the basis for the content on your website, helping Google identify what the website is about, and which search terms it should be shown for. Ultimately this will influence when, who to, how often, and in what position your website appears in SERPs.
User Intent
Understanding user intent is fundamental in creating an effective SEO strategy. User intent describes the reason, aim or intention of the user when they search using search engines.
Intent usually falls under one of four headings:
Informational – To answer questions or carry out research. Example: 'how to', 'where can I', 'what does', 'where is'
Navigational – To locate something with a specific brand or industry in mind. Example: '[industry] podcast', '[brand] contact details'
Commercial – Pre-transactional search terms. Example: '[product/service] discount code', '[product/service] free delivery'
Transactional – Purchase terms. Example: 'buy [product/service]', '[product/service] for sale'
Getting this right is imperative to ensure your site shows to the right users at the right time to maximise conversion opportunity.
As a side note, it is worth considering that this can become especially difficult when using polysemous words (words with more than one meaning) such as fencing, gutter, bank, spring, bright, or live. You can read more about user intent in our 'The Importance of Understanding User Intent' SEO knowledge article.
User Experience
Everything you do on your website should be geared to providing the best user experience possible.
Creating a positive user experience is one of the most important elements of SEO. Ensuring users have a pleasurable experience and are likely to return is one of the most effective ways to increase traffic and conversion. How your users journey through the site and the experience they have will have a profound effect on not only the action they take at that moment, but whether they will return, speak positively or negatively of your brand, convert, return, or leave reviews.
Content
The content on your website is a crucial part of creating a positive user experience. There are many elements to be considered when writing each page, post, or newsletter, and every audience and persona will be looking for a personalised experience which answers the questions they have and resonates with their needs. You can find out more about
auditing your existing content
to make the most of it and
developing a more effective content strategy
in these two links. There is much more about content in our
Knowledge Hub
too.
Internal and External Linking
Internal Linking – This refers to links between the pages of your site and the information architecture it creates. Information architecture is the structure created by the pages of your site and how they are ordered and organised. Internal linking between those pages helps search engines understand how areas of your site relate to each other and the order of importance of each one. It should also create a logical structure for users so that they can easily find the information they need when visiting your site.
Typically, the most important topics are arranged in your primary navigation in order of importance from left to right. Then those topics are broken down into logical sub-topics in the secondary navigation underneath the primary headings and so on. The higher up the navigation a page is, the more visible it will be to search engines and to users. However, piling everything into primary navigation doesn't help, it just over-complicates and confuses and there simply isn't room. So, it is important to think through a simple and logical way to present your website pages, ensuring that the most important ones are near the top left of your structure.
External Linking – External linking refers to links to your site from other websites. This may be self-perpetuated such as social media links and review sites, or from a number of other sources including news articles, awards, partnerships and charity links. External links influence how your site is seen by search engines as they infer your site is trusted and respected by those linking to it. The quality of these sites impacts their benefit they offer and it is useful to keep a close eye on your external links so as to avoid negative effect from poor quality external links. You can find out more about how to manage your external site links in our article about Disavow Files.
Data Collection and Reporting
An often overlooked but critical area of SEO is accurate reporting and data analysis. Ensuring you have the right data analysis tools in place and that they are operating correctly is key to your success. A large number of websites operate with flawed data collection, which can occur with errors as simple as a wrongly placed snippet of code. Business decisions based on flawed data, can reduce the impact of your SEO efforts, have a negative effect on progress and rankings and even affect revenue.

How To Audit Your SEO
Auditing your current SEO position will give you a clear starting point and make planning your SEO priorities easier. An SEO audit will also help you identify areas where your website could be improved to help boost your performance in search engines and your user experience. If you are struggling to rank in SERPs or are not ranking at all for certain keywords, this is a good place to start. Missing out on traffic is missing out on potential conversions and profit, which instead will go to your competitors.
A full SEO audit of your website is going to require a specialist, however there are some basic areas you can check yourself to gauge your organic performance.

SEO Audit Checklist
A full SEO audit requires expert involvement, however there are some key areas of SEO you can check yourself to help identify problematic areas.
Ensure your website is mobile friendly
Back in July 2019 Google switched to default mobile-first indexing for all new sites. This means that when assessing web pages for indexing and ranking, Google will use the mobile version of the web page. If your website is not mobile friendly or offers a poor mobile user experience it will be at a disadvantage against competitive mobile optimised pages. You can check the status of your mobile web pages with Google Mobile Friendliness tool.
Ensure your website is fast
Search engines do not like slow sites. While there are a huge number of ranking factors involved in determining SERP results, a slow site is unlikely to perform well compared to faster competitors, meaning lost traffic and revenue.
There are many ways to help speed up your website loading time, including minimising images, removing unused code, and ensuring there are not too many requests on a page. You can test your site speed using the Google Page Speed Insights tool. This tool gives you a report on the speed of both your mobile and desktop sites as well as data on where the key issues are.
Ensure your website is secure
Google care about security. If you have any concerns about the security of your website, so will search engines.
Google have long favoured https sites over http in most cases, and flags http sites as 'not secure':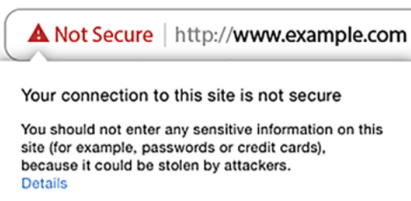 Ensure any themes and patches are up to date, that your SSL certificate is in place. Run regular back-ups as well, in case the worst should happen.
Review your keywords
Think about the words and terms users search for when looking for your product or service. Do these keywords appear in your meta data? In your titles and headings? In your content? Tie this in with your content and meta data audits to ensure you use these keywords on your pages, and that search engines and users are clear on your offering and the solutions you provide. While this article isn't about keywords, they are critical to your SEO so make sure you understand their value, how to determine your keywords and how best to use them. Our article 'Keyword Research in Digital Marketing' will help you further.
Audit your meta data:
Meta titles
Ensure every page has a relevant title. Page titles are a signal to search engines for what topic a page covers. It's also usually the text in blue that users see on search result pages. Because of this, it's important to write page titles that are:
Unique
Include your target keywords for that page
Read well for users
Less than 65 characters long where possible
Engaging and encourage the user to engage with the site
Meta descriptions
Meta descriptions are not a strong direct signal when it comes to rankings, but they are an opportunity to entice users to click on your website as opposed to competitors; consider it your sales pitch. Write meta descriptions which are:
Succinct and descriptive
Include your target keywords for that page
Enticing for your users to click on
Under 156 characters long where possible
Audit your content
Do some of your pages have very little content (under 300 words), or no text at all? Are parts of your content duplicated elsewhere or across multiple pages? All of the above will degrade your opportunity to rank well and are likely to provide a poor user experience. Try to create long form, high quality, unique content throughout your site, starting with key product and service pages.
Your content should answer your users questions as fully and clearly as possible. We've already mentioned the value of auditing your content and your information architecture, but it bears repeating because it cannot be over-emphasised. When planning your content it's essential that you take your user as the starting point. You might find our article on mapping content to the different stages of the buyer's journey useful.
Look for broken links
An audit may identify pages which are no longer working. These should be removed or redirected to the most appropriate replacement page.
Check your backlink profile
There are many tools available which will give you an idea of who is linking to your site and the quality of these links. Look for especially low quality or toxic links and make steps to remove them. This is an area you may want to speak to a professional about, as getting it wrong may do more harm than good. We have a team of technical SEO specialists in-house, so if you'd like their advice on how best to manage your website's backlink profile them you can get in touch with them here or by using the form on the right hand side of this page.
Think about usability and information architecture
Navigate around your site and ask others who have not used it before to do the same, maybe ask them to find the answers to some of the key questions your customer ask and time themselves to see how long it takes. Ask them questions such as:
Was it easy to navigate?
Did they find what they were looking for quickly?
How many clicks did they need to perform to get to their destination?
Did they find it an enjoyable experience?
Would they return to the site of they needed that product or service again?
Ask for comments on usability and see if there are any common themes where UX (User Experience) could be improved.
In truth though, UX is a far more complex discipline than this top-level audit suggests and UX specialists spend years training and have industry recognised qualifications in the discipline. The Innovation Visual Team has three UX qualified members and we'd be happy to help audit and adjust your UX with you.
Getting Started With SEO
SEO is a vast and ever-changing environment and takes a substantial investment of time to reap the results. That said, a well implemented SEO strategy, a good understanding of your industry competitiveness online, and regular optimisation will gradually build your organisation to become a known brand in your field, increase high quality traffic, and improve your bottom line.
Equally, the wrong advice or implementation can have devastating effects on a website, so a considered approach and expert advice is always recommended.
In short, good SEO is essential to the success of any website or online presence but it isn't a quick fix and requires thought and investment to get right. They say, 'All good things come to those who wait', a saying that might have been made for great SEO!
SEO Health Tips & Guides
Use the information above to understand the basic principles and common types of SEO, the most important SEO factors you need to consider, and how to carry out a basic SEO audit of your website.
You can also refer to our SEO Health Tips for further advice on elements you can check yourself and don't forget to investigate the SEO section of our Knowledge Hub for more in-depth articles on many more aspects of SEO.


Further Reading On SEO
eCommerce SEO - Find out more about eCommerce SEO for storefront and online shopping websites.
International SEO - Read up on how to optimise your website for international audiences and ranking in other countries.
Local SEO - Discover how to rank well in search engine results your local area in our Local SEO explainer. You can view all SEO related posts and content in our SEO knowledge section.

Interested In Learning More About Great SEO?
Now that you have a basic understanding of the principles of SEO you can use them to start to identify how your website is performing and where it might need support. Use our related content to get a better understanding and find out more about specific SEO verticals.
We know that all this may sound daunting, it's a complex subject. Don't worry though, we're here to help. Find out how Innovation Visual approach the delivery of really great search engine optimisation and the services we provide by contacting us today.