How to Facilitate Growth in Sales team Performance
A truly efficient sales process requires marketing and sales efforts to be tightly aligned and internal sales processes to be streamlined, timely and efficient. That much isn't news to most revenue and sales professionals. However, too many sales teams are pushed to perform, without the tools they need to achieve their targets. Have you ever considered whether your current tech stack provides the automated features necessary to allow your sales teams to use their time in the most productive way, or are they caught in an endless loop of manual administration? Perhaps you find that it is unable to effectively deliver a data-led, accessible view on your business operations as a whole?
If you answered "yes" to either of those questions, your company is probably wasting precious time and money in work that could be automated and made more efficient, at the same time. With the right tech stack your sales teams could become both more productive, deliver better results and manage greater volumes of work, without the need to increase headcount.
In this article, we will discuss the importance of adopting a dedicated sales CRM like HubSpot's Sales Hub to bring alignment to your marketing and sales departments and empower your sales teams to perform at their best.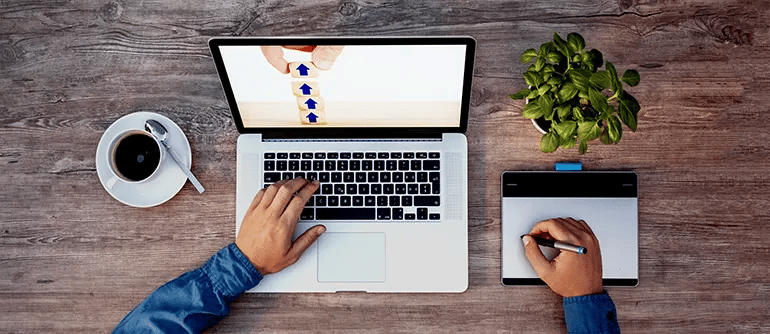 What is HubSpot Sales Hub
HubSpot Sales Hub is the intuitive and flexible all-in-one tool designed to streamline your sales processes in the most efficient way possible. It provides businesses of all sizes, from start-ups to Enterprise level organisations with the critical features needed from a sales focused CRM to drive more sales.
From email templates to automation for outreach, follow-up, and task assignment, you will find that Sales Hub gives you a wealth of resources to track and optimise your sales team's performance while keeping track of potential deals throughout the buyer's journey.
Whether your business goals are related to lead generation or increasing the revenue of your eCommerce website, HubSpot Sales will provide you with all the features you need to accelerate your sales performance.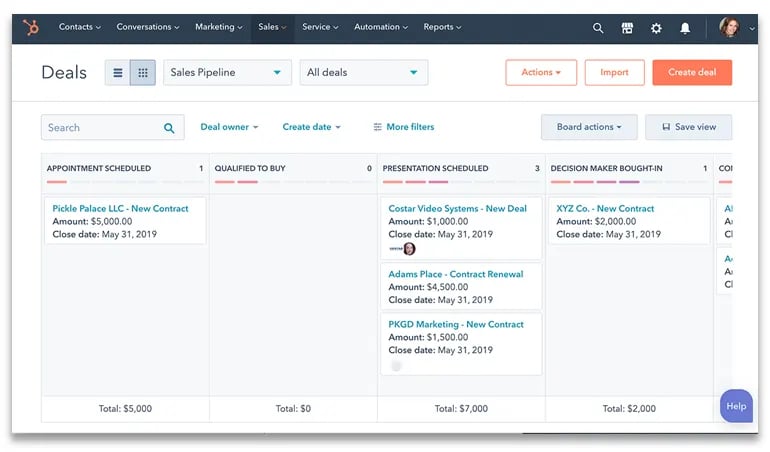 Screenshot courtesy of HubSpot
Why consider HubSpot Sales Hub
Depending on the scale and scope of your business, your company might be using different approaches to manage sales operations. For instance, if your company is relatively new it is common to still be using a simple spreadsheets to manage sales leads at all stages of the funnel. On the other hand, if your business is already well-established, you are more likely to have adopted a CRM platform such as Zoho or perhaps Pipedrive.
All the above-mentioned are great CRM options. In fact, those platforms provide a lot of the same features as HubSpot. However, the value that sets HubSpot Sales Hub apart from the rest is the seamless integration it facilitates between your sales, marketing and service teams and the 'single point of truth' it delivers across your organisation.
If you have experience using HubSpot Marketing Hub to manage marketing activities, you'll probably be familiar with many of this platform's killer features including automating internal processes, reporting and lead management etc. Sales Hub allows you to bring the same capabilities to your sales department while having a single source of truth to visualise the entire buyer's journey from beginning to end. In essence, HubSpot allows you to align your teams around the same data, systems and processes; avoiding issues with integrations and duplication of internal process across multiple platforms.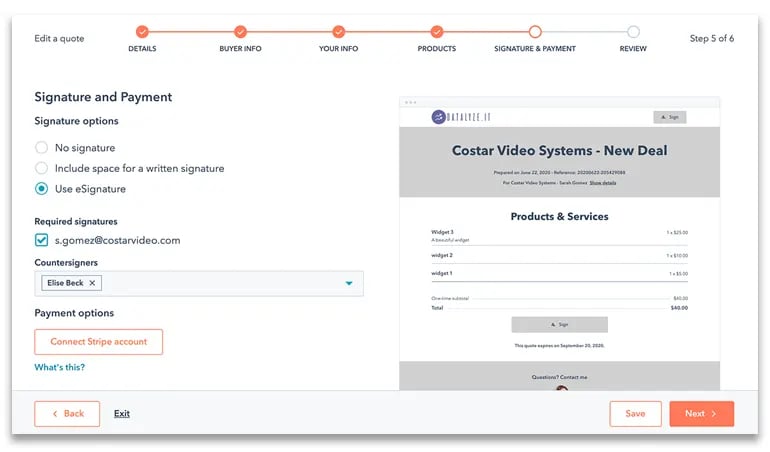 Screenshot courtesy of HubSpot
How does HubSpot Sales Hub Enable Your Team?
Better Alignment of Internal Teams
HubSpot Sales Hub facilitates seamless collaboration between marketing and sales teams, eliminating barriers and promoting effortless access to vital data, insights, and communication history. This fosters alignment and empowers a coordinated approach to engaging with leads, prospects, and customers throughout the entire customer journey.
From lead nurture and qualification to sales-hand-off and task/follow ups automation, both teams can work harmoniously to drive results. Additionally, a central place to look at your team's performance offers a holistic perspective of operations, enabling proactive identification and resolution of any gaps that may hinder the achievement of revenue targets.
Better Lead Management Across The Entire Customer Journey
Bringing sales into HubSpot helps you take your business intelligence and process automation to the next level as it completes the flywheel of the inbound methodology, which focuses on delivering the right message to the right people at the right time, always.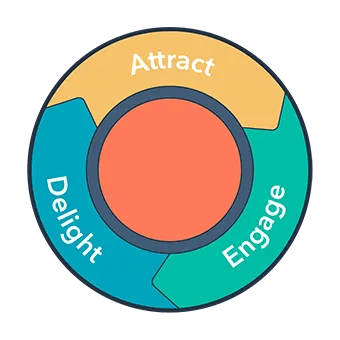 Effective marketing teams use HubSpot's Marketing Hub to attract and nurture leads and Sales Hub to engage with prospects and current clients throughout their lifecycle. Having your contacts stored in one place allows you to leverage explicit and behavioural data captured in real-time through your channels and touchpoints and give your sales department the necessary signals to continue moving deals.
With features like internal sales alerts, your sales reps receive timely notifications when critical activities or events take place with leads or prospects. This ensures prompt follow-up, enabling sales teams to engage with potential customers at the perfect moment, thereby maximizing the likelihood of success.
Elevate Your ABM Strategy
With the Target Accounts feature included with HubSpot Sales Pro and Enterprise, your Account-Based Marketing (ABM) strategy receives a powerful boost. This feature empowers you to effortlessly segment accounts by tier based on specific criteria, enabling seamless personalized communication and outreach. It also provides an integrated index page that serves as a centralized command centre for your marketing and sales teams to effectively track account progress.
By leveraging this tool, you can efficiently identify key contacts with buying roles, while staying organized with open tasks and deals associated with your target accounts. This ensures focused engagement and increases the likelihood of conversion. Additionally, the feature offers comprehensive reporting and analytics, providing valuable data-driven insights to assess and optimize your ABM strategy.
Enhanced Sales Enablement and Productivity
HubSpot Sales Hub offers a range of productivity-enhancing features, such as email templates, automation, and task assignment, enabling your sales team to streamline their workflows and sequences to focus on high-value activities. By reducing manual tasks, your team can allocate more time to building relationships and closing deals.
Better Attribution Reporting
Solid attribution reporting is vital to track the KPIs that influence your company's success. By adopting an integrated platform that combines sales and marketing, you gain a comprehensive understanding of your campaign's overall performance, starting from the moment contacts enter your pipeline as leads and extending beyond their conversion into customers.
HubSpot's attribution reporting goes beyond mere volume and provides a holistic view of your marketing and sales activities. You can gain insights into which channels and assets are most valuable for your business by understanding how they generate leads, deals, and revenue using different attribution models. Moreover, you can produce conversion reports that shed light on the success rate of each lead generation channel and sales rep. This will enable you to recognize top performers and allocate resources across marketing and sales effectively to drive sustained business growth.
This approach of combining your marketing and sales operations into a single entity is often referred to as RevOps, a strategy or department within your organisation that can help you align your teams, systems and data to help drive revenue. Find out more about RevOps here.
Integration Ecosystem
HubSpot Sales Hub seamlessly integrates with a vast ecosystem of other business tools and applications. By connecting with complementary software and systems, you can further enhance your sales processes, consolidate data, and unlock additional efficiencies.
Scalability and Growth
As your business evolves, HubSpot Sales Hub scales alongside your needs. Whether you're a startup or an enterprise-level organization, Sales Hub accommodates your growth trajectory, providing the flexibility and scalability required to support expanding sales operations.

Interested In Learning More About How HubSpot Sales Hub Can Enable Your Sales Team?
Let's have a conversation about driving revenue from your website. Our team of HubSpot specialists can help you implement and make the most out of the different HubSpot Hubs available to your business. We are a Platinum HubSpot Partner based in Surrey and a leading HubSpot agency in the UK.
Did you find this article useful? Visit our Knowledge Hub for more educational content to help you boost your strategy.