What Makes HubSpot CMS Different?
The Benefits of HubSpot CMS – Helping You Achieve More With Your Website
The HubSpot CMS is not like other website CMS platforms. It is a flexible, scalable and intuitive website CMS, but that's not all, not by a long shot. It is also an incredibly powerful, functionality-rich integrated sales and marketing tool that operates as a stand-alone platform alongside your website or as the website CMS itself.
In addition, the HubSpot CMS is part of the HubSpot Growth Platform, a suite of CRM tools or hubs that are designed to facilitate the implementation of the inbound marketing methodology offering integrated management of the sales process as a cycle to help you attract, convert, close and delight more customers.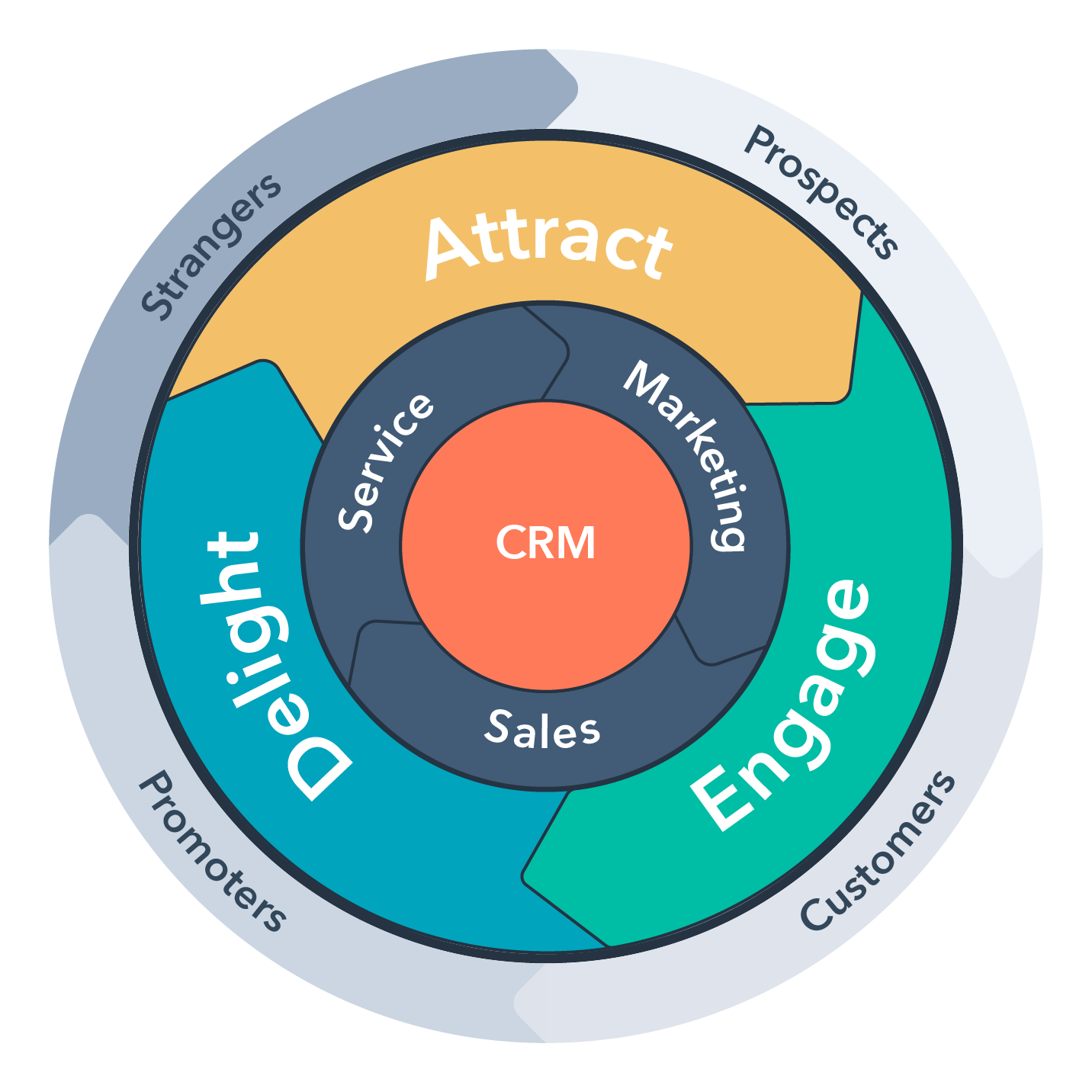 The HubSpot 'Flywheel' that demonstrates the sales process from an Inbound point of view.
The HubSpot CMS gives businesses more power, greater efficiency and a superior advantage over other sales and marketing tools, in an easier to use package. Developers can build using flexible themes and content structures and marketers can easily edit and create pages that allow customers to get a personalised and secure experience. With CMS Hub, everyone wins!


What is HubSpot CMS?
A CMS, or content management system, is a software application that allows users to build and manage a website without having to code it from scratch. With HubSpot CMS, you can create, manage, modify, and publish content in a user-friendly interface. You can customize the design and functionality of your site as well as have multiple users working in the back-end of the same tool — and much more.

HubSpot themselves have created this video to introduce and demonstrate their CMS...


Using a content management system to build and manage your site can help you grow over time. Not only will a CMS store all of your web content in one place, it will also support collaboration across teams, allow for quick and easy updates, and offer templates and extensions to customize your site. You can work with an inbound website design agency to create custom modules with easy-to-understand inputs while simultaneously locking out more important back-end programming so no one accidentally "breaks" something.
HubSpot CMS V. Other CMS Platforms
Of course, the HubSpot CMS isn't the perfect choice for every business, no platform is. That said, the HubSpot CMS is the perfect choice for a lot of businesses including B2B and B2C, SaaS and others. We've produced this video to highlight the top 12 reasons we think that HubSpot CMS is the No.1 CMS choice for SME to Enterprise B2B businesses.

While we are HubSpot experts and evangelists, we are on the side of our customer, helping them choose and implement the right platform for their specific needs, whatever platform that might be. Our team can develop high-performance websites on a variety of platforms including Shopify, WordPress, Magento, Umbraco and many more. We will always analyse the needs of the customer and recommend the CMS and functionality that best matches their objectives now and in the future.

That said, the HubSpot CMS is hard to beat in the majority of situations. This is because it isn't just a CMS but includes a host of native functionality that most CMS's can't offer. It is designed to make your website a seamless, functionality-rich sales and marketing tool that makes the most of your resources, automates processes, nurtures your contacts and transforms your online revenue generation. The list below is not exhaustive by any means but does offer a good idea of the variety of functionality the HubSpot CMS has to offer. It's is worth pointing out that HubSpot offers over 600 integrations with other platforms too.
HubSpot CMS Features
The HubSpot CMS includes features such as:
• Smart content
• Built-in A/B and adaptive testing
• Powerful, custom reporting including contact attribution reporting
• Automated prospecting list built from site visits
• Built-in conversational marketing functionality – live chat & conversational bots
• Intuitive, flexible but simple to use back-end interface
• Over 600 available integrations and counting
• Hosted video
• Content staging
• Its own Content Delivery Network (CDN)
• Logged in visitor identification
• SEO strategy and optimisation tools
• Multi-lingual content creation & support
• Password protected pages
• Website themes
• Drag & drop editor
• 99.99% guaranteed uptime
• Site protection with out-of-the-box, enterprise-class security
These are all valuable built-in features and ones that often businesses have to spend additional money to obtain with other systems, often with clunky plugins and less than smooth integrations which often require bespoke development time to get working. Many are especially useful in CRO (Conversion Rate Optimisation) and reporting, for example, hosted video is not only convenient but also very useful in Lead Scoring and in managing nurture workflows.

What's impressive about the HubSpot functionality is how smoothly it all works together, the added value each function contributes to the overall efficiency of the sales and marketing effort but also the efficiencies offered because additional platforms and plugins simply aren't needed, or are can be integrated more effectively.

We think that all of the HubSpot features are worth shouting about, but several are particularly impressive. Here are the HubSpot CMS features that we rate highly for their value and impact:
Smart Content – Powerful Personalisation Of Your Web Experience
Smart content is the ability for the site to serve different content in designated page areas based on the visitor. In essence, you can teach your website to understand or recognise each visitor and so personalise the content they are served to more closely match their requirements. In aligning your various content with different personas in the HubSpot marketing system, you have the power to personalise the experience of your web visitors at scale, based on your established personas, position in the buying journey or what you already know about them from previous visits. This enriches their experience, increases retention and improves conversion.
Built-in A/B / Adaptive Testing – Constantly Improve Conversion Rates
Conversion rate is the metric around which all of the other performance metrics pivot, in order to deliver performance analysis. There are third-party tools that can be embedded in websites to provide this, but they are often clunky to use and attract additional fees. With HubSpot's CMS, you can simply create an additional variant(s) of a page in the intuitive content management system and let the CMS test the two variants against each other (functionality varies between Professional and Enterprise levels). Having this functionality built-in and always optimising is that you can be confident when landing traffic on your website that the conversion is being constantly managed for best results. The CMS also offers clear reporting on the results of the testing so that learnings are easily visible and replicable across the site.
SEO Strategy Tools
HubSpot includes SEO strategy tools that help you structure your content effectively around your core topics. These inbuilt tools help you research, plan and execute the right topic clusters and pillar pages for your audiences, whilst providing topic-based reporting to track how your content is performing.

This functionality is invaluable for ensuring that resource is being spent on developing the content that your audience is actively looking for, as well as on content that converts. It offers topic suggestion based on relevance, competition and popularity allowing you to make content decisions based on real data as well as respond to the questions your potential customers want to be answered. This insight also enables you to position your services to provide the solutions your target audience needs and so draw them to your site.
Reporting
Accurate, accessible and flexible reporting features heavily across the HubSpot suite of platforms. However, in the CMS, the reporting functionality allows in-depth insight into the performance of each page, blog, email, workflow and form. They can be analysed independently, or collectively as contributing parts of a campaign, via an automated dashboard that collates and displays the data in a variety of accessible formats. From there it is possible to drill down further for greater insight and understanding. This reporting functionality gives the user exceptional insight from top-level down, into the performance of each element of the website enabling accurate and efficient optimisation.
Drag and Drop Editor
HubSpot has become famous for its simple and intuitive interface and the CMS is definitely in line with that user-friendly, straightforward style. Put simply you don't need to be a front-end developer or have any real tech experience to create visually great, attractive and effective landing pages or blogs. You can use existing templates and modules, or get your development team to create them (hint: we're really good at this so why not ask us?!), then use the intuitive drag and drop interface to build fantastic looking, on-brand, pages fast.
Landing Pages
HubSpot can be used for developing a full website or campaign-specific landing pages. What's valuable to know about that is that your site does not have to be based on the HubSpot CMS for you to make full use of this landing page functionality. The HubSpot CMS can be used as a standalone platform delivering an invaluable toolkit for your sales and marketing teams to make your website work harder. Starting from the free CRM upwards, the HubSpot platform includes the tools to build stand-alone landing pages which can be optimised for search or used for dedicated PPC, social or email campaigns.

This gives marketers the flexibility to create, test and adapt their landing pages without requiring development time and without interfering with the main website. The landing page tool includes the A/B testing functionality, making it the ideal platform for conversion rate tests.

HubSpot's Unique User Environment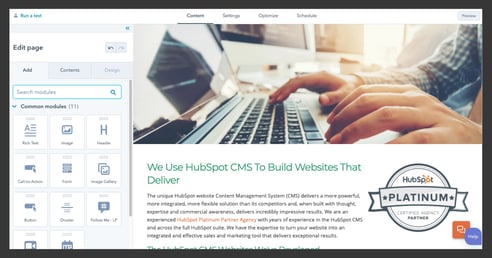 The HubSpot Integrated Development Environment (IDE) is a unique experience designed specifically to unlock the power of the HubSpot system. It separates out the different elements needed to build a website. While the editors see a simple to use interface to create and edit pages, the developers use a clever construction that provides a visual design area while still giving access to separate HTML and CSS code. The system uses its own unique language HUBL to bring all of the elements together in a coherent system that creates effective and beautiful website experiences that are easy to edit, update and add to.

Enhancing HubSpot CMS with Platform Integrations
What makes HubSpot's CMS truly unique is how the integration with HubSpot's other hubs enhances what the CMS is capable of. For example, using the HubSpot CMS in conjunction with HubSpot's free CRM or Marketing Hub means you can make maximum use of seamless integration of your marketing tools and your website.
This means that everything from lead capture and behaviour tracking to marketing automation and reporting can be perfectly and effortlessly aligned with your website. With HubSpot's integrated platform that offers CMS, marketing automation and CRM tools, this can have a huge impact on your sales pipeline by putting your website to work for you to generate leads.

What's more, HubSpot makes it easy for you to control which team members have access to specific tools. As we have already said the CMS is a blend of powerful developer tools and a drag and drop builder. Once you factor in the Marketing, Sales or Service Hub offerings the range of tools available becomes pretty impressive.

By creating roles and teams with pre-defined permissions you can ensure that your content creators have access to social media and blogging tools whilst only your developers have access to the templates, html and CSS editors. Being fully integrated into the HubSpot Suite does provide significant advantages but integration is just part of the story. By combining ease of use and flexibility, this HubSpot CMS is ideal for businesses with all levels of in-house resource, that are looking to grow over time because the automation, segmentation and functionality can do so much without user involvement
HubSpot Structured Approach - Choosing Your HubSpot Developer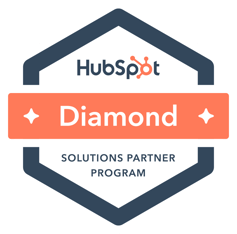 The HubSpot CMS is flexible in a way not seen anywhere else. Pages, templates and modules can be created by the developer in a way that allows them to not simply be reused, but to empower the marketers who will use the website in a controlled way, maintaining brand but maximising creativity and flexibility. It is important to note that the quality of the HubSpot development partner you choose will not simply impact the look, feel and functionality of the website. The HubSpot developer you use will also be responsible for creating the experience for those who will maintain and add to the website, editing pages, creating landing pages, writing blogs, optimising the website for search etc. Creating an excellent, logical, intuitive and above all usable editing experience is part of a great HubSpot Developer's remit.

For the HubSpot CMS developer, planning and thought needs to be put into the way elements are not only arranged and their look and feel but also the degree to which they can be controlled by editors. There is not only design and content controls but also logic controls and allowances for scalability and change over time.

There is a lot to think about and failure to be thorough could lead to a site that limits what is possible unnecessarily and requires more work more quickly to allow it to grow. We're passionate about how great this CMS is and have years of expertise in making it work successfully for a wide range of businesses. if you'd like to learn more or have any questions, get in touch today, we'd be delighted to hear from you.
Innovation Visual Are Experienced HubSpot CMS Developers
We have many years of cumulative experience in providing effective CMS solutions for a number of clients. We are also a HubSpot Diamond Partner Agency. We pride ourselves on being exceptional digital marketers with acute commercial acumen and extensive experience across the full range of digital marketing disciplines. We seek to understand our clients' businesses and, from there, use our experience and skill to develop the most effective CMS solution to achieve their goals.
We can use the HubSpot CMS and other HubSpot Hubs to help your website perform better and your business achieves its revenue and growth goals too. To find out how, why not check our Hubspot CMS Developer Services page.
Alternatively, get in touch using our contact form above or give us a call on 0333 772 0509. You could always use our chatbot (bottom right) if that appeals to you too!