The Role of Video in a Best Practice SEO Strategy
Search Engine Optimisation (SEO) is a key element in any business's overall digital marketing strategy, and a vital foundation to its online visibility. SEO is the process of improving a site to increase its organic visibility in search engine results and drive increased organic traffic to the site. The higher a business ranks organically for targeted keywords, the more likely it is that the business will gain attention from prospective and existing customers online.
There are many different channels and tactics to consider in a SEO strategy, and one of the most important is content creation and optimisation. Video is a crucial form of content for today's B2B and B2C consumers that can be leveraged to deliver exceptional SEO results. This article covers what video SEO is and why it is invaluable to your business's SEO strategy.

What is Video SEO?
Video SEO involves optimising your video content to improve its ranking and visibility in search engine results. As with any content, unoptimised content is essentially invisible content and that is useless as far as using it to drive traffic, engagement and, ultimately, revenue goes. Given the prevalence of video content and video consumption now it makes sense to leverage that channel for the benefit of your business and to do that you need a strategy that encompasses your video content as well as its optimisation.
While a huge proportion of businesses use video in their digital marketing strategies, few are actively optimising that content for SEO. Creating authentic video content that is informative and entertaining will bring your business higher traffic, conversion rates, and ultimately sales. But creating video alone is not going to get you seen in search results, this is where video SEO comes in.
It's worth noting that YouTube is the second most used search engine on the internet, with its own search rules, keywords, and intent. Incorporating YouTube into your video SEO strategy is key to delivering optimal digital visibility for your business.
Let's look at video SEO has evolved over time, and why optimising your video content is key to delivering target SEO outcomes. For more information on this and our video services, get in touch with our expert team today.
How SEO for Video Has Evolved
Video has been a part of the digital marketing tool kit for years, that isn't new. However, from an SEO perspective, video has taken the industry by storm. That fact is supported by the understanding that YouTube (which is owned by Google) is essentially a search engine in its own right. The way users consume content has changed, with over 250 million hours of videos on YouTube watched every day, video is quickly becoming the most popular content type for B2B as well as B2C users to interact with.
When digital marketing first emerged, businesses started to digitise their marketing efforts by creating websites and digital ads, whilst also figuring out how to rank in search engines. As time has gone on, audiences have changed the way they consume digital marketing, now trying to avoid ads on the internet all together. Along with this, search engines have developed algorithms to push businesses to create quality websites and content for consumers that respond to users' needs and questions rather that focus on selling.
Algorithm changes, such as E-A-T, have made content marketing into a priority for businesses that want to rank well within search engines. E-A-T stands for expertise, authoritativeness, and trustworthiness. This algorithm change, along with the understanding that users want unique and informative content over ads, directed marketers and SEO experts alike to understand that content is king in the eyes of Google and the user. This is where the evolution of video as a marketing tool starts to unfold. Users do not just want to read content anymore, they prefer content in the form of video because it demands less, is more accessible and, when done well, allows users to understand ideas, processes, services and products more easily.
All this combines to make video content more important than ever. SEO experts have long understood the need for quality content, and optimising videos for search engine results pages is the only way to achieve targeted organic visibility from it.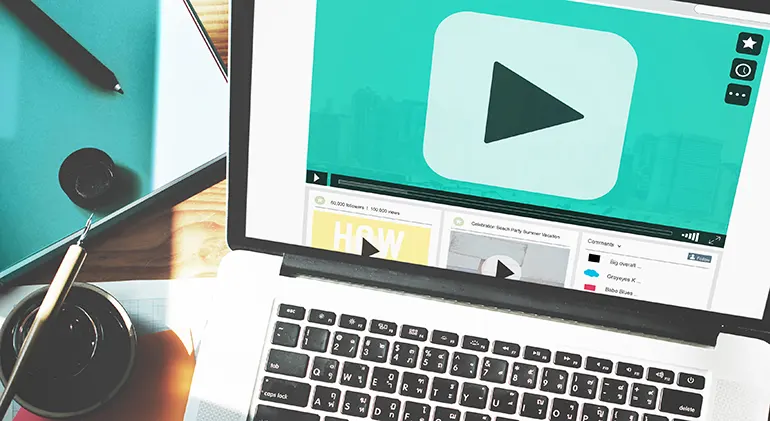 Benefits of Video for SEO
The benefits of utilising video in digital marketing are endless. Quality video content is now one of the most effective content types available.
Not only is video a fantastic and convenient source of content for users, it can also contribute to user experience on your website, not to mention, search engines love it. Google scans websites for a mixture of content, but not just text, capitalising on quality visuals such as video means Google will interpret your pages as varied as well as informative, enhancing your position in Search Engine Result Pages (SERPs).
Improving Traffic
One of the key means by which video enhances your SEO strategy is by improving the amount of quality, high-intent traffic delivered to your website. Users are more inclined to visit your website after watching a video on YouTube or other media platform than any other type of content. This is because they have received the information they were looking for, and now are more engaged with the brand, products and services behind the video. Along with this, video is ranked in Google SERPs. If your video is on your webpage, users can access it there as well as on YouTube, which is why it is important to host your video on platforms like YouTube but to also embed them on relevant pages on your website, to enhance user experience there too.
Video can also bring in further traffic through social media sharing. Social media has cemented itself as a vital part of digital marketing, and video has become a favourite format of choice for users. Sharing your business videos online will help push social media sharing, which in turn increases reach, builds brand awareness and has a direct correlation with higher search rankings.
Time on Site
Search engines pay close attention to how long users stay on your website once they arrive and this metric is a ranking factor in itself. If users come through to your website but only stay for a few seconds, it is more than likely that the content you are delivering does not answer the users question and they have made the journey to find the information elsewhere. However, by employing video marketing, users are more likely to stay on your website for longer periods of time because they are watching and are engaged with your video content. It's part of the human condition that movement and content that employs more than one sense capture the attention more quickly and for longer than those that don't.
As users are more likely to watch a video than read a full blog post that relies solely on text content, implementing video will increase the amount of time a user spends on your website, positively impacting metrics such as bounce rate, which in turn will help boost your rankings in search engine results.
Backlinking Opportunities
Backlinks are an incredibly important part of any SEO strategy because search engines see websites with quality backlinks as signals of trustworthiness and authority. In creating those backlinks, linking websites are more likely to organically link to video content and to domains utilising the use of informative and quality videos because they provide a better quality experience for their users.
There is a strong correlation between high volumes of social shares and higher positions in search engine results pages. Social users will share the video content that they find informative and useful and social platforms, even business oriented platforms like LinkedIn, are specifically designed to make that sharing easy.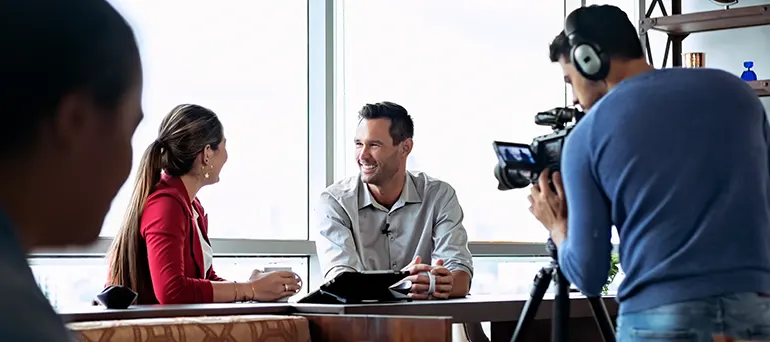 Building Video into Your Best Practice SEO Strategy
So, it's clear, as users have changed the way they consume content, video marketing has become an essential element in delivering a best practice SEO strategy, but video is still the most underutilised tactic when it comes to SEO, because digital marketers are failing to optimise their video content.
There is a lot to consider when planning your video content marketing; topic, style, script, positioning to mane but a few, but failing to take into consideration how you will optimise them for SEO effectively means you will also fail to extract full value and results from your investment and your competitors will have the upper hand in claiming that share of market.
Ensure your business has a complete SEO strategy designed to target today's user to achieve your organic search objectives. To find out more about our video and SEO services why not get in touch today.