Over the past few years, and throughout the COVID-19 pandemic, Innovation Visual has continued to expand its team of highly skilled digital marketers. Our growth strategy has been clear, and we have maintained recruitment across the business and our specialist hubs to deliver on that strategy and the consistent, high-quality results delivery that our clients expect. Delivering on our brand promise of 'Just The Expertise You Need' to help them meet their own demanding objectives.
However, we are not simply focused on recruiting skilled, fully-formed digital marketers and feel strongly that we have a responsibility to help train new superstars looking to take the first, or second, steps into the field. That is why we have developed the Innovation Visual Early Careers Programme.


Launching the Innovation Visual Early Careers Programme
Our newest team development initiative is our Digital Marketing Early Careers Programme. Launching this Summer, we are seeking a group of potential digital marketing superstars who are motivated to take the next steps in their digital marketing careers.
The selected trainees will be working with and learning from highly-skilled professionals at the leading edge of their fields. At the end of the programme, we anticipate that these trainees will have accrued skills and experience in a range of digital marketing disciplines including; SEO, paid search, web development, content strategy and copywriting, videography, creative skills and communication.
Innovation Visual places huge emphasis on training and development. Each member of our team, from the CEO down, undertakes at least 8 hours of training each and every month. This new Digital Marketing Early Careers Programme is an extension of that commitment. You can find out more about joining Innovation Visual as a Trainee in our video below
if you, or anyone you know might be interested in more information about the Innovation Visual Early Careers Programme, please contact our HR Manager Victoria Davies for more information.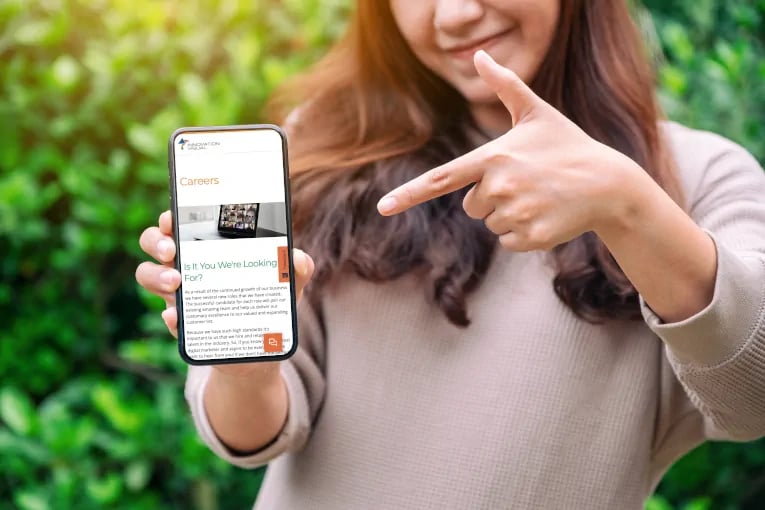 Careers With Innovation Visual
As our business expands, we are also looking to welcome more senior, experienced recruits to our team. We share our current vacancies on our Careers page and via social media and we are always delighted to hear from skilled, motivated and enthusiastic digital marketers looking to work as part of an effective, results-driven team. If you, or someone you know might be interested in taking their next career step with us then why not get in touch?