Innovation Visual are delighted to announce that we are now recognised as a HubSpot Platinum Partner Agency!
What it Means to be a HubSpot Platinum Partner Agency
Being a Certified Platinum Partner Agency means that Innovation Visual are supporting a larger number of clients than ever before to use the inbound methodology as evangelised by HubSpot. This is evidenced by the fact that we are consistently reaching the monthly recurring revenue required for the Platinum tier for sold and managed accounts, as defined by HubSpot.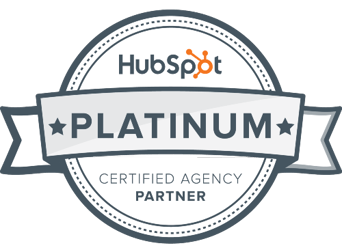 Being part of the Solutions Partner Programme means that Innovation Visual is a trusted and certified member of an expansive ecosystem of partners and providers who are growing and developing their businesses through HubSpot, and who are helping their clients grow through the implementation of the inbound marketing methodology. We have our finger on the pulse of HubSpot's technology which means we are informed of changes, updates and benefits ahead of non-partners, and can react instantly to remain ahead of our direct competitors.
The Benefits of Working with a HubSpot Partner Agency
We'll be the first to admit that we are HubSpot fans, but that is based on our experience of using the tool and the potential it provides for online business growth, and we practice what we preach!
Check out all the benefits of working with a Certified HubSpot Platinum Partner Agency
Grow your Business with HubSpot and Inbound
We work with clients who are at all stages of their HubSpot journey. From those who have never heard of it before to those who have it already installed but don't have the capabilities in-house to fully maximise its potential. Whether you are new to HubSpot, want to get the most from your existing HubSpot offering, or are interested in how HubSpot's integrated software can help you grow your business contact the Innovation Visual team and find out how our partnership approach can help you with all aspects of your inbound strategy.