Another year, another win for our incredible team at Innovation Visual. This year, we are finalists in the European Search Awards, in their 'Best Use of Search – eCommerce' category. This entry highlights our extensive work with Joseph's Wigs. Whether it's for a medical reason or even fashion, they offer wigs perfect for a variety of situations. The company has a great message and supports people facing medical hardships, and we couldn't be more proud to support them.
What are the European Search Awards?
The European Search Awards recognise and celebrate some of the top businesses, specialising in SEO, PPC and Content Marketing. Excellent use of innovation, creativity and connectivity are all shared across the nominees, and we are so proud that we are one of them.
With a variety of factors to judge, across many applicants around the continent, the awards are extremely competitive and being valued a nominee is a reward in itself.
Our Nomination
Innovation Visual have been chosen as finalists in the 'Best Use of Search – eCommerce' category as a recognition of our incredible achievements working with Joseph's Wigs. We have helped develop a great new eCommerce site, incorporating our SEO strategies while simultaneously delivering great user experience.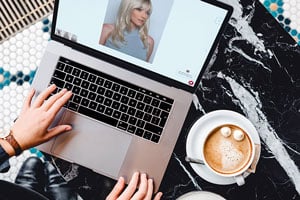 Our Experience with Joseph's Wigs
A key goal we had for Joseph's Wigs was for their website to become the main sales generator for the business and reach the client's ambitious growth targets. Through 3 key areas, SEO, PPC and CRO, we were able to meet the client's needs, massively increasing their success with organic traffic.
Our success with Joseph's Wigs is demonstrated with a massive 72% year-on-year in quarterly revenue and 105% increase year-on-year monthly organic traffic. It is our pleasure to be working with Joseph's Wigs, who provide wigs and wig care products, supporting those who may have a medical condition and are going through a hard time. We love supporting a good cause and pride ourselves on helping these companies achieve their results. Check out their extensive 'How To' guides and blog to see some of our content.

The Event
The awards ceremony for the European Search Awards will be held on 26th May at 7:30pm BST. The ceremony will be streamed live and is free to attend so we hope to see you there!