Want to reduce the amount of plastic you accumulate in your office but don't know where to start? Have a look at the ways Innovation Visual acts to reduce the amount of plastic that we come into contact with on a daily basis.
We are all aware that we need to make huge efforts to reduce the amount of plastic that is being produced and discarded across the globe each day. We're hearing from organisations like Greenpeace and the Ellen MacArthur Foundation that by 2050 there will be more plastic in the sea than fish, the task of combating this crisis can seem unsurmountable.
So what are we doing to change that? For many of us we spend much of a working week with time spent in the office – so in the office is a great place to start. Recognising this the team here at Innovation Visual have dedicated time to finding ways to reduce plastic waste in our office, and we've put together a handy list of ways to reduce plastic waste in your workplace to help you too.
1. Recycling in the office
This might seem like an obvious one, and if you are already doing it, then brilliant. However, it is important to know which items are genuinely recyclable and which, if left in the wrong bin, could cause an entire load to be rejected by the processing plant. What can be recycled often depends on where you are in the world – this handy guide can show you what can be recycled in the UK. It's also important that your team are informed and fundamentally that it is as easy as possible for them to recycle and make the appropriate bin choices. Try minimising the availability of general waste bins and make clearly labelled recycling bins as accessible as possible. You could even try updating the team on recycling achievements or, if your team are engaged, setting friendly targets.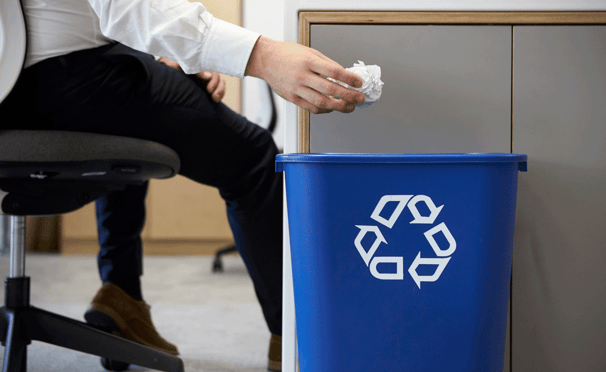 2. Company reusable water bottles
At Innovation Visual we've opted for a branded metal water bottle - These are an efficient way of removing the need for plastic bottles both in the workplace and when out and about. They are also a great way of spreading your brand message and they make for excellent gifts. Give our Executive Assistant, Jo, a shout if you'd like to know where we got ours from jo@innovationvisual.com
3. Providing office reusable containers
Providing shared reusable tubs and drinks cups for staff to use to collect their lunch or snacks is a very quick win in the fight against single use plastics. It also encourages everyone to be more mindful about what they are throwing away with each meal. This solution doesn't have to be anything too extravagant; at Innovation Visual we have a set of marked office Tupperware.
4. Consider your waste bins
Reduce the need for bin bags and use biodegradable bin bag options where you need to. Try using multiple small bins for 'clean' rubbish by separating and recycling or composting food waste independently and collect these in one larger bin with a bag. Having smaller bins further from desks like this also helps to reduce how much people are throwing away, as they have to make a concerted effort to leave the desk to dispose of their unwanted items.
5. Ban plastic straws
We've all seen the harrowing videos of the turtle with the straw lodged in its nose, we've all heard David Attenborough's pleas, so a simple way to help is to adopt a company policy not to use unnecessary single-use plastics – like straws. With so many eco-friendly options available in paper, metal and even grass, there's really no reason to continue using plastic drinking straws.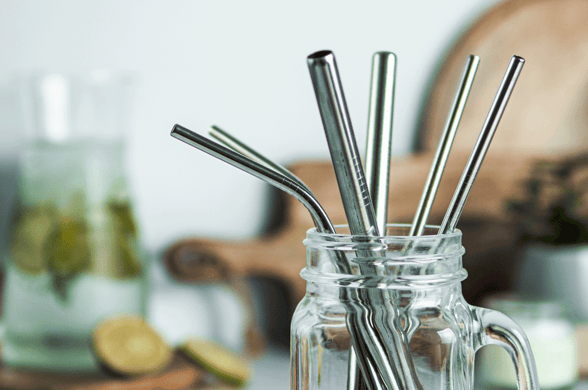 6. Off-set with litter picking
In today's environment it's almost impossible not to create some waste, so, to offset any unavoidable single use plastics, arrange a littler picking walk to help clear your local area of rubbish and create a happier environment for everyone. This could be worked into a team building activity where teams compete against each other to fill the most bags. Innovation Visual's summer scavenger challenge included a prize for the team who litter picked the most waste along the way. Check out what Innovation Visual's summer intern, Ellie, had to say about this!
7. Keep an eye on what you buy: Responsibly source your office essentials
Recycling and reusing are great, but what really makes the impact is not causing the production of these items in the first place. Have a think about your purchases; there are lots of areas in which plastic consumption can be reduced. The regular grocery delivery can be requested without bags. Before buying toner, check if the supplier has a send back scheme for empties. Have milk delivered in glass bottles rather than plastic. Try to consume less and make plastic-free or limited plastic options where at all possible, every little effort makes a difference.
8. Green deliveries
Having items delivered is a part of our daily lives and often crucial to the day-to-day operations at an office. Use green couriers, pick green time slots, and bulk order to reduce number of deliveries required. Save the packaging – Your pack of AA batteries comes pristinely cushioned in bubble wrap? Keep it for when you need to post something out, rather than throwing it and having to buy more wrapping that is delivered to your door surrounded in yet more plastic wrapping.
9. Plastic free office cleaning supplies
There is a world of eco-conscious and natural products now becoming available on the market. It is possible to find biodegradable surface cleaning wipes, instead of those made from synthetic materials and plastics (check your packs – it might surprise you that many wipes are made with plastic and can never biodegrade). Refillable containers are also becoming more common place too - keep hold of the empty bottles of spray cleaner and the like, when safe to do so, and purchase the refill packs.
10. Clean up the plastics from the office kitchen: get rid of single use kitchen items
Make sure you provide your team with coffee mugs and water glasses, and plates, bowls and other crockery. Have proper metal knives, forks and spoons so that they don't have to pick up plastic ones at lunchtime or risk losing their own in the shared kitchen. At the same time, install a kitchen rota and make sure everyone knows how to stack the dishwasher!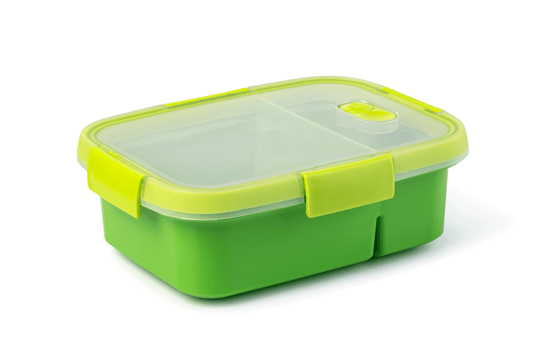 11. Company canvas bags
Recent research has shown that reusable plastic bags-for-life are only adding to the problem of single use plastics produced by supermarkets, as shoppers are switching to the heavier grade bags and not reusing them nearly as much as they could be. Switching to canvas and biodegradable bags can help and remembering to always have a bag on you for those unplanned purchases. Making these available in your office for your team to use, for lunches or lunch break trips to the shop, can remove the need for plastic bags. Company printed canvas bags can also be a great opportunity to showcase your brand!
12. Let's talk plastics and coffee
How do you make your coffee? Single use coffee pods/machines are widely disposed of in landfill. Even those brands with a return-after-use option use a lot of plastic in production and are relatively difficult to deconstruct and recycle. Of course, we would never expect your team to go without coffee - but consider how this can be provided. Having a cafetière available for staff use can replace the need for pods/machines and is also a lot cheaper to maintain. You can even put the grounds in the food waste for composting or recycling.
13. Encourage others
Your efforts to reduce plastic waste are worth even more when they are part of something bigger! Talk to those around you. Ask the manager of your local café for plastic free alternatives and about what they are doing to reduce plastic waste – more and more coffee shops are now using compostable takeaway items. Get the offices around your office involved by share useful articles, posts, tweets and blogs or your office's successes to help spread good practice and habits that others may not have considered.
14. Put on a company 'Plastic-Free Day'
Ideally we would all like to live in a world where all our plastic worries are resolved. But in a world where plastics are sometimes unavoidable, acting where we can will make a difference. Consider implementing a plastic-free day. One day when nothing comes into or out of the office, and where no new or single use plastics are consumed or disposed of. You could run it with team building or activities and rewards for your staff, or with a fundraising element where you raise money for a charity like 'City to Sea' who have been instrumental in campaigning for paper cotton bud stems and their 'Refill' scheme. Once the first day is completed make sure to recognise everyone's efforts, see how well you all did and how this can be improved on in the future. Consider increasing your plastic free days to once a month or, if your team really nail it, perhaps once a week – let us know how you get on!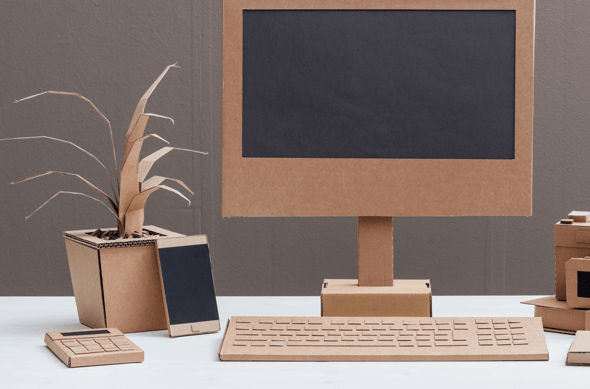 Here's a few of our thoughts on logistics: A plastic-free day will require a certain amount planning ahead to consider the needs of the business and to ensure that people do not simply bulk buy ahead of the date, or hang on to waste for the day after. Consider what items need to be used that day and how they can be replaced or offset. Include the team members in the planning and consider all ideas.
15. Promote an anti-plastic office culture
Foster an ethos of good plastic habits amongst employees at home as well as at work. Consider suitable incentives for team members who follow these suggestions and who go out of their way to help reduce the plastic waste at the office. Encourage people to take these ideas home with them and to spread the word amongst their family and friends. Remember to recognise and acknowledge individuals' achievements as well as the team as a whole and be open to implementing new ideas.
These are some of the ways that we are tackling our plastic waste – Read more on our environment page to see how Innovation Visual are helping to tackle climate change and other environmental issues.
We welcome all ideas to help with this global crisis, please get in touch if you have any ideas you would like to share with us jo@innovationvisual.com