How to Use Video in Digital Marketing
Video is one of the most powerful forms of media when it comes to engaging with people. It is also one of the fastest growing and most popular channels of communication. One of the standout advantages of video is the ability to present a large amount of information to the viewer quickly and in a far more engaging way than via an article, which is why video consumption rates are rising so rapidly across a wide range of demographics.
Well-positioned video that is strategically delivered has the power to have significant impact on the bottom line, driving better qualified traffic and a higher proportion of conversions.
What Is Video For?
Video assists both users and marketers. It helps:
Increase understanding of a product or service
Increase sales
Reduce support queries
Increase traffic
Increase time on website
Build brand awareness
Video is a highly effective way to display information and is an excellent means of resolving the obstacles to purchase, making it easier for customers to make that decision and convert.
The Power of Video
There is no platform that showcases the power of video better than YouTube. YouTube is officially the 2nd largest search engine after Google. This is quite incredible for a platform that was designed purely for video upload, not as a search engine at all. Some of the statistics for this video upload platform are incredible:
Over 500 hours of video are uploaded to YouTube every minute (that's an increase of over 200 hours per minute since 2018)
Around 1 billion hours of video are watched on YouTube daily

In an average month, 8 out of 10 18-49 year-olds watch YouTube.



These statistics show the current popularity of video and proves that there are certainly a number of willing consumers for video-based content, YouTube isn't the only platform either, with TikTok, Vimeo and Twitch rapidly building popularity in their markets too. With so much interaction occurring across all of these platforms, it is important that your business leverages the appropriate channels to deliver quality video in the spaces your audiences inhabit online. By posting videos regularly, ensuring your calls to action are clear and effective and taking the time to review and respond to the engagement those videos receive it is possible to.
If you want to reach potential customers for your products and/or services using video, then YouTube is a very important platform to master.
The Importance of Video Marketing
It is thought that approximately 86% of businesses currently use video as a marketing tool, and statistics show that 92% of marketers believe that video is an important part of their marketing strategy. These numbers, while crude, show that a large proportion of businesses have already recognised the value of video as a revenue tool. If you are not yet using video that it's possible you are being left behind, especially if your competitors are already taking advantage of it.
It's worth noting that statistics suggest that 80% of people would rather watch video from a brand than read a blog, which indicates that it is worthwhile investing time in creating video content to complement your content strategy. However, that figure will vary from industry to industry and of course will be different for B2B audiences compared to B2C audiences.
Video is an effective tool across sectors and for B2C (Business to Consumer) as well as B2B (Business to Business) organisations. Not only does it enhance user experience as well as engagement but can offer valuable SEO benefit too. However, it should not be used indiscriminately and it is important to think about where you are investing your time for best results when it comes to web content creation. Developing a video strategy that aligns with and complements your marketing strategy and business objectives, will enable your video output to be more effective.
The 4 Types of Video To Consider
How to video – YouTube deals with thousands of 'how to' search queries every day. Creating this type of video gives you more authority and makes it more likely that your content will be found. To make your videos as relevant as possible, use keyword research to plan your content before developing it, to make sure you are actually responding to the queries your potential customers are searching.
FAQ Videos – Answering the questions people are asking about your business, product, service, industry, or key topic in a video can improve sales by helping to educate your customers and reassuring them that you have the experience, understanding and skill to help them. That makes their decision when choosing a provider easier.
Products & Services – Embed product and service explainer videos on your website. People will engage with the video and spend longer on the page. The amount of time spent on a page is now a ranking factor in Google, so it is worthwhile taking steps to encourage people to spend more time on your pages. Beware though, make sure the video is hosted on a platform like YouTube so it doesn't affect your page load speeds.
Introduction to the business – Create a short video on your story and what you do. This can be embedded on the home page and the about sections of your website. This can be a really good way to let visitors to your website know how you can help them and what your business is the best fit for as well as giving your business a human face that is relatable and makes relationship building easier.
Coming up with Video Ideas
You should make it as easy as possible for users to find answers to questions and information about your business. The golden rule is don't make customers have to work to find what they need. Finding you, answering their questions and buying from you should be as intuitive, easy and simple as possible.
Listen to your customers and do your research. The likelihood is that if one person is asking a question about your business a number of others will be too, whether they ask you directly or not. Your website search function, Google Analytics data and FAQ traffic are great starting points to uncover what your customers want to know.
If you are still struggling for ideas, then take a look at the free tool AnswerThePublic. Simply enter the keywords into the search box and click 'Get Questions' and it will generate a number of content ideas based on what people are searching. Look at the queries and decide on a few you can create useful videos for. It's a good idea to go to YouTube and type the search query in and see what the competition looks like, just to make sure you aren't reinventing the wheel. After all, your content needs to stand out and offer something that no-one else's does.
If there are a number of good videos answering that search query, then creating a competing video may not be the best use of resource. Instead, look for popular queries where there aren't useful video results available. Finding these gaps is a great opportunity for your video to rank well in YouTube results.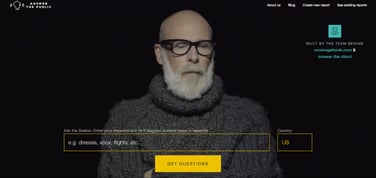 When you consider that YouTube is the 2nd largest search engine, ranking in search results there is likely to be beneficial to your business, especially if there is a considerable amount of traffic around those topics.
Getting Results With Video
Start with a strategy that describes how video can help solve your customer questions, build your brand and reassure them that your business is the one that can deliver the solution they need. You don't need a large marketing budget to make great video content. You can start with simple explanation videos, describing what your products or services are or answer population questions you receive from your customers. The key is to create video that responds to questions your customers have in a way that is accessible, easy to understand and drives them to follow your call to action.
Getting Your Video Seen
There's little point investing in great video if no-one knows it's there. In order to get the best results it's necessary to plan and implement a programme of promotion to drive visibility and generate attention. You have to tell your audience (and search engines) that you have content that will answer their query.
On YouTube people will often search with 'how to' queries. On Facebook, Twitter and Instagram it is possible to target the exact demographic of people who you want to see your video through paid advertising. For B2B promotion LinkedIn is seeing a marked increase in video uploads so well worth considering as part of your strategy and it also has some excellent targeting filters in their paid for advertising function. While YouTube and social media are likely to be the key channels for promotion, it's important that the video metadata, tags, description etc are all optimised so that search engines can understand what the video is for too.
Using Video To Enhance Content
Video is incredibly flexible and doesn't have to be used as stand alone content. It can enhance email marketing as well as text content such blogs, articles and product pages. Pairing text and video content delivers a deeper, more effective solution for users, delivering key messages via sound, video and text in a way that reinforces them and increases accessibility. (Don't forget to embed it from YouTube to save your page load speed though!).
Make Video Part of Your Digital Marketing
We believe that the prominence of video in both B2B & B2C marketing is only going to increase over time so, if it is a potential vehicle to aid accessing your audience then it's time to get on it.
We have an in-house team of videography experts who are experienced in translating your company message, USPs and calls to action into compelling, exciting video that works. Here's just a small sample of some of the recent work we've produced.
If you would like to find out more about using video as part of your digital marketing strategy, please use the form on this page to get in touch we'd be delighted to talk to you about how we could help you develop and implement an effective video strategy that works.