HubSpot's Operations Hub - Everything You Need To Know
What Is Operations Hub?
Operations Hub is the latest member of the HubSpot family, joining the likes of Marketing Hub, Sales Hub, Service Hub and CMS Hub. Operations Hub was launched on 21 April 2021. It's not often that HubSpot launches an entirely new hub, and certainly not one that brings entirely new functionality and features in the way that Operations Hub does.
Having now had a little time to check out the new Hub, our CEO Tim and HubSpot Team Lead Chris have put together a short video to discuss what it is, what it does and how you could use it.
Watch: What is HubSpot Operations Hub and What Can It Do For My Business?
Operations Hub has huge potential to deliver exceptional process automation and data management functionality but most exciting are the customisable work and chatbot flow actions that open up limitless possibilities. Just take a look at the concept use cases we've suggested below.
What Does Operations Hub Do?
Operations Hub, or Ops Hub, is a deceptively simple product. On the face of it there are three key features:
Enhanced integrations
Data cleansing
Programmable automation
But don't be fooled by the apparent simplicity of the hub, the power that these three features offer not only takes HubSpot's proposition to a new level, but also says a lot about where HubSpot is heading in the future.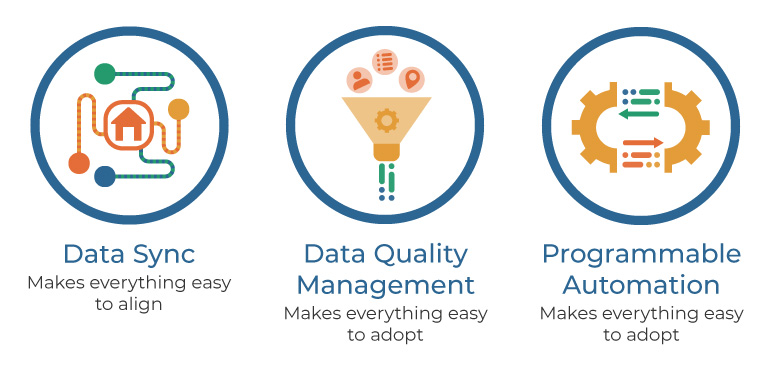 Let's take a look at the key features and what they really mean for HubSpot users.
Enhanced Integrations with HubSpot Data Sync
In 2019 HubSpot bought PieSync, a dedicated integrations platform that enabled users to connect various elements of their tech stack together. This acquisition quickly led to improved integration options in HubSpot via 3rd party apps and integrations.
Operations Hub takes this functionality, ramps it up and integrates it natively into your HubSpot portal. For those that are familiar with the HubSpot > Salesforce integration, you will instantly start to understand the benefit of being able to setup integrations with your existing systems through a user-friendly interface that is designed for marketers and sales teams.
In other words, with Ops Hub you will be instantly less reliant on developers building custom API integrations and will be able to see your data syncing seamlessly across your tech stack with minimum set up time or effort.
Some great use cases would be connecting HubSpot to your ERP system or your eCommerce platform. In both cases you can choose which data fields you want to sync, and the sync will run in real-time, keeping the two databases up to date with each other.
Data Sync brings native integrations for 37 and counting commonly used apps at launch including:


You can view the full list here.
Google Contacts, Netsuite, Zoho CRM, Mailchimp, Aircall, ActiveCampaign, Microsoft Dynamics 365, Mindbody, Constant Contact, Nimble, Square, Outreach, Stripe, Xero, Sendinblue, RingCentral, Outlook & Exchange, Zendesk, Salesloft, Intercom, Airtable, Keep, Magento 2, Freshdesk, Bullhorn, Pipedrive, iCloud, Keap, Mindbody, Copper, Freshbooks, Drip, Zendesk Sell, Clio Manage, Campaign Monitor, Front, Insightly, Follow Up Boss, Sugar.
Data Cleansing with Data Quality Automation
This second feature is a simple one, but one that will save you and your teams hours of painful, manual data cleansing.
Up until now the only way to tidy up your data was to export it to Excel and do the tidy up process there using filters, pivot tables and so on. Operations Hub brings the power of the spreadsheet into the platform and allows you to run these essential data management jobs as workflow actions.
Whether you're looking to standardise time formats, capitalise names or remove all-caps entries – you can do it easily in the Ops Hub now.
Programmable Automation
The final killer feature that Operations Hub introduces is programmable actions in workflows and bots. Essentially, they have introduced a new action (that can be used in any object-based workflow or bot flow) which allows users to create custom code actions within a workflow.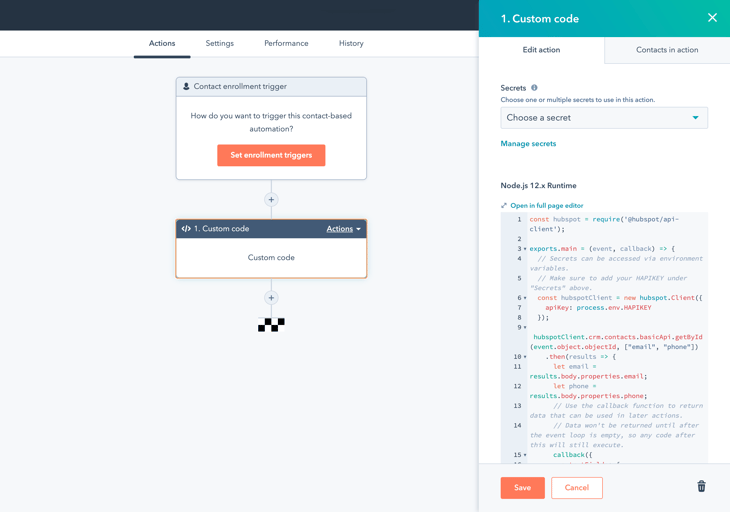 You can feed objects into a workflow as usual and then use a custom code field to create custom actions using JavaScript. The possibilities for this feature are endless and only limited by what you are able to code.
If you're not a developer though, or don't have access to in-house development resource the thought of adding coding into a workflow might sound daunting. However, not only can you continue to use all of the user-friendly drag and drop functionality you're used to within workflows, but at Innovation Visual we have in-house specialists who can create the JavaScript custom coded actions for you to tackle more complicated automation tasks. You decide what you need and we'll produce the code to do it.
Programmable Automation Use Cases
Whilst Operations Hub is still a newcomer to the HubSpot family, there is already a long list of exciting new use cases for the updated automation tools. Below is a list of ideas to get your wheels turning, but ultimately your specific use case and your unique tech stack will be what defines how this versatile new feature works for you.
Assigning leads using more advanced or condition-based rules than the standard lead rotate action
Generating new values based on calculations and writing these to custom properties
Calculating dates in the future based off of existing date-based properties
Randomising contacts for A/B testing
Enriching an object using an external data source
Update external platforms based on an action in HubSpot
Advanced deal automation including customised renewal processes and owner assignment


How Can I Get Operations Hub?
Operations Hub is available in various different packages and combinations with other hubs. Whilst it can be bought as a stand-alone hub (alongside the free CRM) it doesn't currently make sense as a standalone product, though that may change as it evolves. Instead, it should be seen as a powerful set of tools that work alongside Marketing, Sales or Service Hub depending on your business requirements.
Some of the Ops Hub tools are available in a free version and will therefore be available for all users including those using the free CRM tools.
Operations Hub Packages
As with the other Hubs, the new Operations Hub is available at different price points depending on your requirements.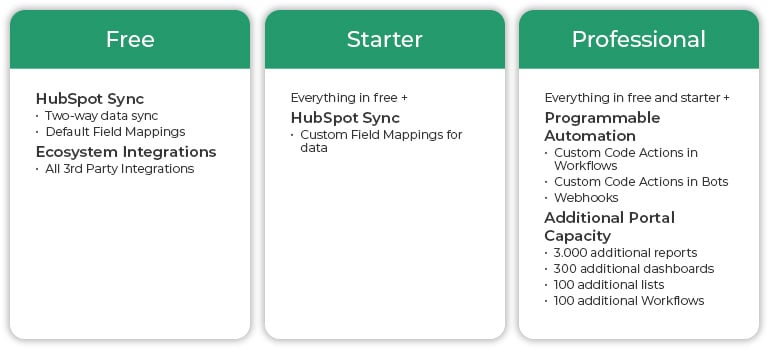 Operations Hub - Free
As mentioned above, there is a free set of tools available to all users. This includes HubSpot Sync allowing two-way data sync using the default field mappings.
Operations Hub - Starter
The Starter package enables custom field mapping for your integrations. This really opens up the possibilities and enables mapping data fields from your existing platforms and systems to custom properties in HubSpot.
Operations Hub - Professional
The Pro tier introduces the programmable automation as well as the data cleanse functionality, making this the obvious choice for those looking to build out custom workflows with custom coded actions and data quality actions.
The Operations Hub is also available as part of the new CRM Suite packages which bundle the hubs together with varying discounts compared to purchasing the hubs separately.
Find Out More
If you would like to find out more about Operations Hub, which option is right for your business, or how you can add Operation Hub functionality to your existing portal; then reach out to us today and we will happily walk you through the options, functions and different pricing options available.
Getting In Touch
You can get in touch with us however suits you best. Talk to IVyBot, our chatbot, in the bottom right of this page; our contact form above or give us a call on 0333 772 0509. The choice is yours.