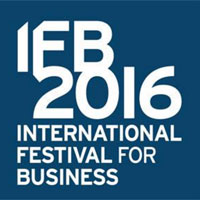 We are excited to announce that the Director of Innovation Visual, Tim Butler, is to present at the prestigious International Festival of Business for its 'Open to Export Action Plan Competition' on the 30th June in Liverpool, representing The Medical Stock Images Company (MSIC), which is run by Tim and his wife (and business partner) Joanna Culley. Joanna is a talented, leading medical illustrator. Her work has been used by organisations ranging from Johnson & Johnson to the NHS, and The Royal College of Surgeons to Harvard University.
The Medical Stock Images Company's entire business plan is export orientated, as they have identified North America as their primary market. As a business that supplies a digital product, distance isn't a barrier to trade, however challenges still remain. The company's website is multi-currency and the search engine strategy is focusing on rankings in the USA. Their digital marketing is supported by Guildford based digital marketing agency InnovationVisual.com, which is operated by Tim Butler.

From the thousands of businesses who are members of the Open to Export organisation, they selected only 10 finalists to present on stage. Each finalist business will be given 10 minutes to present their business and export plan in the most engaging way possible, after which, they will be subject to 5 minutes of intense questioning by an expert judging panel - no pressure Tim!
Tim said on the forthcoming visit and presentation:
"I am really looking forward to going to Liverpool. It is brilliant to have been chosen as a finalist in this national competition to find the best business export plan, and validates the approach that we have taken in the Medical Stock Images Company to be export focused from the start."
You can find the Medical Stock Images Company's website at www.medicalstockimages.net
And if you want more information on Open to Export, visit - opentoexport.com. Tickets are free for the International Festival for Business and you can register online at www.ifb2016.com/en/festival.
We can't wait for the competition! Good luck to Tim for his presentation.
Go get 'em, Tim!