Leveraging Email Marketing Automation to Drive Revenue
If you're running digital marketing for an E-Commerce, SaaS, B2B or B2C company, there are likely dozens of things competing for your time. While it can be tempting to focus only on the trendy channels like social media, there's one channel that performs consistently, email.
Quality email campaigns delivered on a regular basis are a great way to max out revenue from your existing contact database. But what to do if you're already short on resources?
This is where email marketing automation steps in. It allows you to send targeted emails at the right time and at a scale. This article covers the basics of email marketing automation and how it can help you to nurture your leads and drive more sales.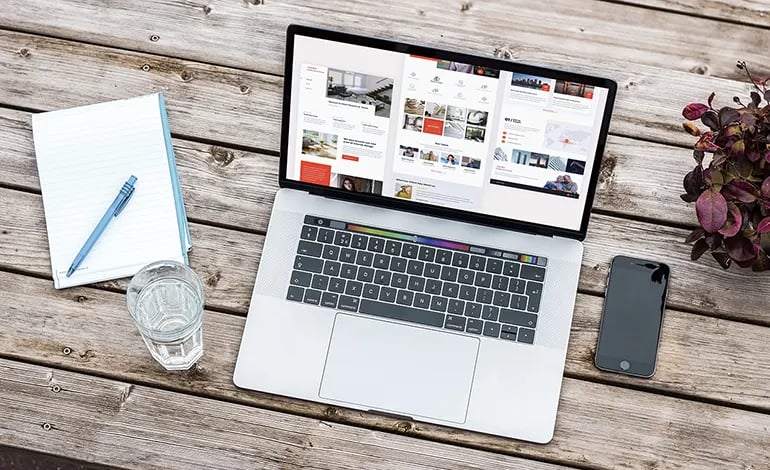 Email is a major driver of revenue
Matched perhaps only by in-person contact, email is a top performing channel for sales and marketing across all industries. According to the Data and Marketing Association's report, in 2020 the Marketers' ROI estimation for email remained strong at £35.41 for every £1 spent.
It is safe to say that email is a valuable marketing channel, and a very direct route to your customers that is proven to be effective at generating sales. Email marketing automation allows you to leverage this massive opportunity by creating automated processes for your email marketing campaigns.
How does email marketing automation work?
You can use email automation to connect with your audience in a way that regular email marketing can't by setting up triggers and rules to send emails in a sequence, based on customer behaviour and actions.
Just a few types of lead nurturing emails that you can automate include a welcome email to new subscribers or a mail drip campaign for trial users to show them how to make the most out of their trial. If you are an eCommerce business, you could send out emails triggered by events occurring in your eCommerce platform, such as abandoned carts. Other businesses can use automated email to re-engage inactive users and reduce churn. In email marketing automation, everything centres around turning leads into paying customers.
The analytics included with marketing automation software like HubSpot can help you get a 360 view of your customer data and discover even more opportunities to guide your leads towards a purchase. Talk to a certified HubSpot agency to get more ideas that can work for the specifics of your business.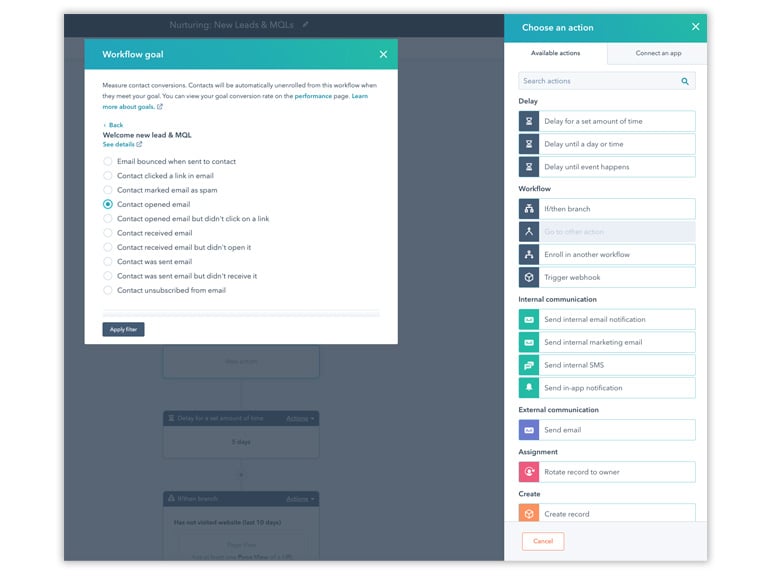 Screenshot from Hubspot
Don't lose the race before you start
Email marketing is an increasingly competitive space, and two thirds of marketers also feel their automation strategy is 'extremely effective' or 'very effective.' (HubSpot State of Marketing report 2021) If you're not using email marketing automation, you could be missing out on a huge opportunity to drive revenue. Marketers need to rely more and more on automation to reach and engage customers and warm up their leads while making best use of their time resource.
Marketers are also becoming more deliberate with email. According to the same report, marketers in 2021 were sending fewer weekly emails than the year before, but were prioritising automation, personalisation, and segmentation.
The good news is marketing automation platforms like HubSpot have ready-to-use templates for many processes and tasks for businesses just like yours that can help your team get started more quickly.
Personalise at a scale
Personalisation is an essential tactic for corporate and consumer marketing alike and using basic personalisation tokens like First name is a great start. It may seem easy, but the drive to simplify sign-up forms has led many marketers to skip asking subscribers for anything other than their email addresses, resulting in missed personalisation opportunities. Recording your subscribers' first name is of strategic importance as it will affect the performance of your future emails.
It is not just about first names, though. For best results, make personalisation a constant element of your customer journey. For example, if you want to reduce customer churn, you need to make sure that your onboarding process follows your customer's specific needs. To do that, you can simply ask your users what they want to achieve with your product by sending them an automated email survey.
There are numerous advanced personalisation tactics available to HubSpot users that you can use to increase your email relevancy.
It is important to make sure you are using personalisation as part of your strategy and not as an afterthought. What kind of data do you need to collect on your subscribers or customers, such as website activity, purchase history, or interests' data? What integrations will you need to be able to segment your audience based on this data? Automation and segmentation are driving the more targeted approach, but it's the data that ties it all together.
With the right strategy and systems in place, you will gain a competitive advantage over your competitors and an opportunity to grow revenue faster than ever before.
Define a metrics-based process
Without a doubt, the most important part is to make sure your email marketing automation strategy is working. One of the biggest mistakes we see is people creating a bunch of automated emails, then never look at them again.
A better approach is to define a metrics-based process for your automation, so that you're consistently monitoring performance, then tweak things as needed. Frequent (at least monthly) QA reviews of your automation workflows are necessary to keep your automation running smoothly and make sure you maintain your momentum.
You can analyse your email statistics to see which emails are performing the best and benchmark them against industry averages, allowing you to optimise your campaigns and improve results.
Maintaining healthy email lists is also essential for automation success. Email software analytics let you track how many people open and engage with your emails and determine when someone should be removed from your list.
Make email your best performing channel
The goal of email in marketing is, eventually, to guide customers towards purchase, which can be done via educating and delighting, and presenting them with timely next steps. Automation makes it easier to do these things at a scale with a strategic and contextual approach, without straining your already limited resources.
Email marketing automation can be a massive driver of revenue if it is set up right. Make email your best performing marketing channel in terms of ROI by setting up tried and tested automation workflows for your type of business.
Are you interested in working with a digital marketing agency? Innovation Visual is a HubSpot Diamond Partner and we have worked with businesses like yours to automate their email marketing. With our motto: "Just the expertise you need", we provide comprehensive services from content development down to technical integrations. If you would like to learn more about the benefits that implementing HubSpot could bring for your business, please get in touch.
If you found this useful, why not take a look at our other Knowledge Hub articles. There's a wealth of useful information, advice, how to's and strategy available there across a huge breadth of topics.