The Innovation Visual team are pleased to be working with Guildford based VR, AR and MR agency, Diverse Interactive.
What Do Diverse Interactive Do?
Diverse Interactive produce unique, bespoke interactive content using technologies like Virtual Reality (VR), Augmented Reality (AR) and Mixed Reality (MR).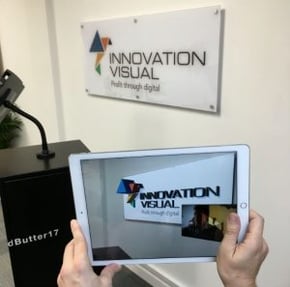 They make use of different types of technologies to overcome industry related problems. For example, Mercedes Benz wanted to improve the experience for customers who were interested in purchasing their popular 4×4, the Mercedes G Wagon. The G Wagon has incredible off-road ability, but this was not something that potential customers could experience by taking the car out for a test drive on normal roads.
Diverse Interactive developed a solution, using virtual reality to create a simulator that allowed customers to immerse themselves in the experience of driving off-road without even having to leave the dealership. This has helped Mercedes to showcase the selling points of the G Wagon and enhance their customers experience.
The Importance of Digital Marketing Services
Virtual reality (VR), augmented reality (AR) and mixed reality is a growing industry. Headsets, simulators and now even games consoles and phones are making use of virtual reality technology to create immersive experiences.
By the end of 2018, it is estimated that the VR and AR market will be worth £13 billion worldwide, and this is expected to rise to £100 billion by 2020. These figures clearly indicate the growing popularity of this technology and also give some indication as to the competitive nature of the market.
The number of online searches around these technologies is constantly increasing, and it is becoming more and more important for Diverse Interactive's website to be visible online to secure new customers.
Search Engine Optimisation
Investing time and money in SEO is vital if you want your website to rank in search results. The first step the team took was to conduct a detailed keyword research to identify the key industry terms to optimise the Diverse Interactive website for. In addition, this helps to scope the creation of new content that can target key terms.
Innovation Visual are
organic search optimisation specialists
and have successfully worked with a number of clients on improving their online visibility. Our team are looking forward to working on achieving equally impressive results for Diverse Interactive.
Paid Search
One of the most effective ways of making sure your website is visible in search results is to use
paid search advertising
.
The Innovation Visual team have been using the extensive keyword research to create search and remarketing display ads targeting industry terms relevant to Diverse Interactive's services.
It is also important to take into consideration paid advertising on Bing. Google has a 90% search engine market share in the UK, but Bing's market share is growing and currently accounts for around 7%.
As the default search engine on Windows machines, Bing is a popular corporate search engine as Windows is used by thousands of companies. Too often, Bing is ignored as a search engine, but our team of paid search experts are
Bing Ads Accredited Professionals
and understand the value of advertising across this search engine.
Have a Problem? Diverse Interactive May Have The Solution.
Diverse Interactive have worked with a number of globally recognised brands including Ribena, BAE Systems, American Airlines, Sony and Sky to name just a few. Their team are very experienced in creating customised solutions to solve industry problems. If your business is facing an issue, then why not contact Diverse Interactive who may be able to create the perfect solution by making use of immersive technology.