Last night the Innovation Visual team hosted their office warming party to celebrate moving to new premises and offered a chance to thank everyone who has been part of our journey so far.
We were treated to some fantastic talks from Google Partners, The David Shepherd Wildlife Foundation and Diverse Interactive.
The Future of Voice Search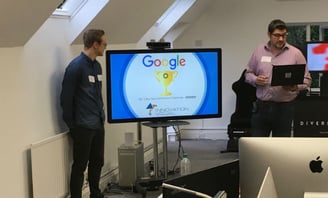 Chris Mantle and James Smith from Google Partners spoke to us about voice search and how this technology is going to develop over the next few years. By 2020, it's estimated that 30% of web browsing will be done without a screen, which shows that voice search is only going to become more prominent in our everyday lives.
It was even suggested that in the future people will have more communication with their bots than their spouse! I'll leave it up to you to decide if this is a surprising statistic or not!
Protecting The Painted Dog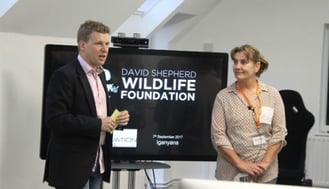 Innovation Visual are proud supporters of The David Shepherd Wildlife Foundation as part of our commitment to 1% for the planet, and so it was a great pleasure to welcome Karen Botha from the foundation and hear her talk on their work to protect the painted dog in Zimbabwe. The foundation has helped the recovery of the painted dog population from 750 in 2008 to over 5000 in 2017, a truly remarkable achievement.
Thank you to everyone that purchased tickets in our raffle, all proceeds from which are being donated to the foundation to continue their valuable work in protecting this once endangered species.
Virtual Reality Isn't The Future, It's Here Now
Chris Elson from Diverse Interactive explained to us that contrary to the news and media talking about virtual reality as being the future, it is in fact already here.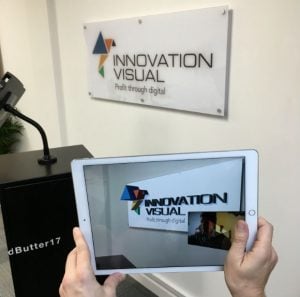 Diverse Interactive proved their point and brought along a few examples of their technology, including the Mercedes-Benz driving stimulator. This technology is already being used in Mercedes' showrooms in Germany to offer potential customers the experience of driving the cars in environments that wouldn't be possible on the road, such as race tracks and off-road circuits. The simulator was certainly very popular!
The FIFA goalkeeper interactive game was also popular, as our guests battled it out for top place on the leader board of how many shots you could save in the time limit.
Their technology also extends to Augmented Reality, and they treated us to a fantastic demonstration of this, bringing a static wall-mounted Innovation Visual logo to life via a tablet screen. Impressive stuff!
Congratulations to our Raffle Winners
Our most coveted prize in the draw was a Google Home device, which was won by Sarah Alexander. Congratulations to Sarah, we hope you enjoy your new personal assistant!
Well done to all our winners and thank you to everyone for your generous donations.
A Big Thank You
The Innovation Visual team would like to say a big thank you to everyone that made the event happen. We do hope that you all enjoyed attending.
In particular, thank you to our speakers from Google Partners, The David Shepherd Wildlife Foundation and Diverse Interactive. And a big thank you to Paul Sandy and his team from Chameleon Cuisine who did a fantastic job providing the delicious food and drinks, making sure our guests were well catered for. And lastly, a big thank you to Helen and her team from Orchid Digital for their filming and photography.
We hope to see you all again at the next Innovation Visual event!
Here is a short highlights video from the event.