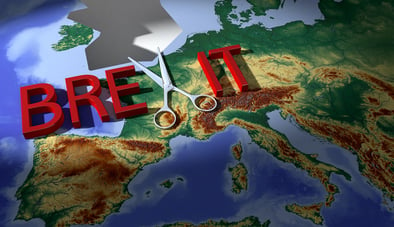 There is a lot in the news at the moment about the negative impacts of Brexit and unfortunately this article is not going to do much to dispel this, especially if you're a UK registered business using an .eu domain.
As a result of the UK withdrawal from the EU all UK based businesses will lose their eligibility for a .eu domain name. This is a serious issue, especially when you consider that there are over 300,000 UK-owned .eu domains.
European Commission statement on .eu domains
On the 28th March 2018 the European Commission issued a statement to stakeholders concerning the .eu domain names registered by UK residents. The statement reads:
"Subject to any transitional arrangement that may be contained in a possible withdrawal agreement, the EU regulatory framework for the .eu Top Level Domain will no longer apply to the United Kingdom as from the withdrawal date. […]
"As of the withdrawal date, undertakings and organisations that are established in the United Kingdom but not in the EU and natural persons who reside in the United Kingdom will no longer be eligible to register .eu domain names or, if they are .eu registrants, to renew .eu domain names registered before the withdrawal date. Accredited .eu Registrars will not be entitled to process any request for the registration of or for renewing registrations of .eu domain names by those undertakings, organisations and persons."
What does this mean for .eu domains owned by UK businesses/citizens
There are two possible scenarios facing stakeholders who have an .eu domain:
Scenario 1 – the UK leave the EU with no deal on the 30th March 2019
If there is no withdrawal agreement in force before the 30th March 2019 then any stakeholder currently using a .eu domain will have to take action before this date. With the 30th March fast approaching, any stakeholder currently using a .eu domain needs to take action and quickly.
Any British .eu domain registrants will be notified by the 30th March 2019 that their domain name is no longer compliant with the .eu regulatory framework. The only way to revert this decision is to prove that the business has a legally established entity in one of the eligible EU27 or EEA Member States.
If no action is taken, then your domain could be deemed eligible and therefore not renewed when it expires. 12 months after the UK withdrawal from the EU (March 2020) all the affected .eu domain names will be revoked and will become available for general registration.
Even if the stakeholder fights the decision and it goes to a legal court case the domain will remain registered, but will be suspended, ceasing to function as of the 30th May 2019 until a legal decision is made in court.
Scenario 2 – the UK leave the EU following a planned transitional period on the 31st December or at a later date
From the 1st January 20221 any registrant with a UK country code will not be able to register a new .eu domain.
.eu domains that have a UK registrant code at the time of the UK withdrawal will be notified about the forthcoming non-compliance of their domain on the 23rd December 2020. On the 1st January 2021 UK registrants will again be notified by email that their domain names do not comply with .eu regulatory framework. At this point registrars will have to either prove that their domain abides by the regulations before the 2nd March 2021.
What should you do about your .eu domain?
Option 1 – Update your admin address details
If your company has an EU postal address, then you can use this as your domain's admin contact. To continue using your .eu address, your admin details will need updating on your domain name recorded to this address.
Alternatively, your business can transfer ownership of the .eu address to an EU subsidiary.
Option 2 - Transfer domain name to .co.uk or .com
Luckily, there is a bit of time left to migrate your current domain address to a new one. If your company does not have an EU post address, you will need to do this.
To change your domain name, the process involves choosing and purchasing a new domain name and then migrating your existing site and assets to the new address through your domain registrar. This may take a bit of time so ensure you are planning ahead and making the required changes now.
Plan ahead and take action before the withdrawal date
If your business has an .eu domain, make sure you are taking relevant action now before you face any potential consequences.
If you have any questions on how to transfer your domain name and what you should do, please feel free to contact the Innovation Visual Team where we would be happy to advise you on the migration process.