At the start of the month, the entire IV team took a well-earned day off and headed down to Southampton to spend the day sailing. We had a fantastic day and it was wonderful to see the whole team together again after many months of working from home. In true IV style we took plenty of videos, which have been beautifully put together in the vlog below.

Our Day Sailing Across The Solent
Our day began at Port Hamble, where each member of the team received their very own Innovation Visual branded hoodie – being modelled to perfection below!

We then split into our three IV branded yachts for a continental breakfast and a safety briefing from the excellent team at Britannia. We spent the morning sailing from Port Hamble to Cowes, where we learnt how to master various sailing techniques such as tacking and jibing. Vogue's favourite job was lying at the front of the boat soaking up the sun, she said it was a real task but we weren't convinced!

After working up an appetite, we docked at a spectacular lunch spot in Cowes where the team enjoyed a frankly enormous BBQ, AND pudding in the sun.

Our plan for the afternoon was to have a race back to Port Hamble, however there wasn't a single breath of wind, which meant no racing could be done. We didn't complain though as the weather was incredible, and we made the most of it with a nice, relaxed glide across the very flat, but sparkling green Solent, back to Port Hamble.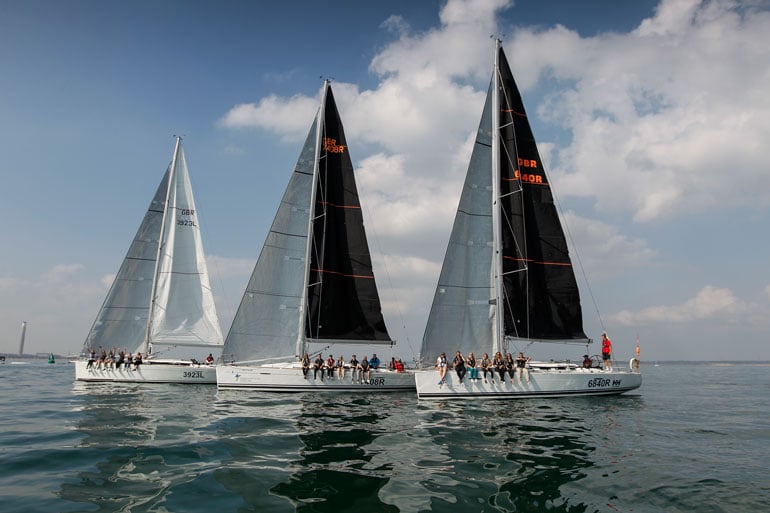 Watch Our Vlog
For a more detailed look at our day, along with some excellent presentation skills from Senior Web Developer, Adam, have a watch of our vlog below.
Join Our Team!
If you would like to our excellent team and come to our next team building day, then why not take a look at our current roles. We're growing fast and new roles are being identified regularly, so if you are a great digital marketer, then be sure to get in touch.